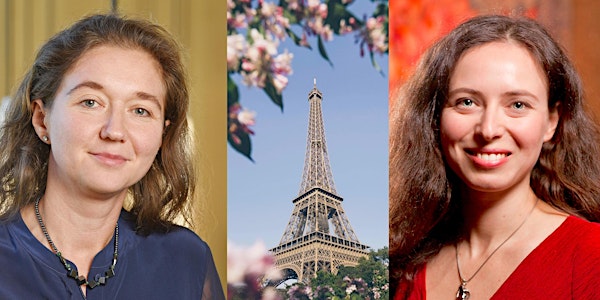 PARIS REVERIE: Oboe and Piano Concert from Faneuil Hall
Virtual concert by Rita Mitsel (oboe) and Anastasia Seifetdinova (piano) featuring French and Russian composers linked to Paris.
By Ballets Russes Arts Initiative
Date and time
Starts on Sunday, May 23, 2021 · 3pm PDT
Refund Policy
Contact the organizer to request a refund.
Eventbrite's fee is nonrefundable.
About this event
A reverie in is the state of being pleasantly lost in one's thoughts--a daydream. Join us on May 23rd to be transported to Paris through music spanning nearly a century of composing and enjoy the sound of the oboe, an especially dreamy instrument.
In this concert, oboist Rita Mitsel and pianist Anastasia Seifetdinova, both natives of Ukraine, perform music by Gabriel FAURE. Maurice RAVEL, Claude DEBUSSY, Sergey PROKOFIEFF, Francis POULENC and more (see below for full details). The streaming premiere of the concert video takes place on May 23,. The video will be available to watch on-demand through June 5, with registration open through June 3.
Nearly all of the composers on this program worked for the Ballets Russes at one point or another: Prokofiev composed three ballets, Debussy wrote two, Faure, Poulenc and Ravel had one each (although Ravel's ballet was rejected by Diaghilev and later staged by another Russian emigre troupe). The pieces you will hear, however, were mostly written before or after the Diaghilev era. In fact Poulenc's Sonata, which he dedicated to the memory of his old friend Prokofiev, dates to 1962--more than three decades after their shared days around the Ballets Russes.
Your ticket purchases and donations are shared by BRAI and the artists.
PARIS REVERIE is part of the In Honorable Company series of virtual concerts presented by Ballets Russes Arts Initiative in collaboration with the Ancient and Honorable Artillery Company of Massachusetts (est. 1637). This concert was recorded live in the fourth floor of Faneuil Hall on May 10th.
All registrations after May 23rd receive the viewing link immediately in the order confirmation.
Gabriel Fauré (1845-1924) Pavane (1887)
Claude DEBUSSY Reverie (1890), Arabesque No.2 (1891) , Bruyeres (1912) arranged for piano and oboe
Claude DEBUSSY (1862-1918) L'sle Joyeuse (1904)
Maurice RAVEL (1875-1937) Vocalise (1907)
Sergey PROKOFIEFF (1891-1953) Piano Sonata No. 3 (1907-1917)
Francis POULENC (1899-1963), Sonata for oboe and piano (1962)
Napoléon COSTE (1805-1883) Cavatine
PERFORMERS:
Oboist RITA MITSEL is a native of Kiev, Ukraine who earned her Bachelor's and Master's of Music degrees from Mannes College of Music, and the Doctor of Musical Arts degree from The Juilliard School. She has performed extensively throughout the United States and in Europe and is a member of the Jupiter Symphony Chamber Players (NY) and Symphony in C (NJ). Ms. Mitsel has appeared as a substitute in the Metropolitan Opera Orchestra, the Orpheus Chamber Orchestra, the Orchestra of St. Luke's, the American Ballet Theater, the American Symphony Orchestra, and in The Phantom of the Opera. As a soloist, she performed with Symphony in C, Orion String Quartet, Mannes Orchestra, and on Bargemusic, among others. She has recorded for Naxos, Toccata, and Centaurus Records. Ms. Mitsel teaches oboe and chamber music at Queens College (CUNY), and is on the music theory faculty at Mannes College of Music.
Pianist ANASTASIA SEIFETDINOVA was born in Kyiv, Ukraine, trained there at the Lysenko School of Music and at the Hochschule für Musik Würzburg, Germany. She also holds a Master's and Doctorate from The Hartt School of the University of Hartford. Among numerous international honors, in 2006 Ms. Seifetdinova won the Puigcerda International Piano Competition in Spain and recorded the complete works for piano and orchestra by Balakirev with the Russian Philharmonic Orchestra for NAXOS records.Her career has featured numerous appearances as a soloist in concertos with orchestras, chamber music concerts and solo recitals in Ukraine, Germany, Macedonia, Italy, Hungary, Switzerland, France, Russia, USA, and Japan. Centaur Records released two of Dr. Seifetdinova's solo albums in 2016 and 2018, both recorded at The Hartt School. Recent highlights included a recital at Carnegie Hall, as well as other appearances in recitals in Florida, Pennsylvania, New York, New Jersey, Massachusetts, and Germany. Dr. Seifetdinova is currently a freelance pianist at the New England Conservatory, and Adjunct Faculty at The Hartt School.
BALLETS RUSSES ARTS INITIATIVE is a Boston-based non-profit cultural organization that fosters international creative exchange in the visual and performing arts and film, and connects communities in the US and Eurasia. BRAI carries out public programs throughout Massachusetts, the East Coast and internationally, and BR360 Member programs in the Boston area. www.ballets-russes.com
THE ANCIENT AND HONORABLE ARTILLERY COMPANY is a service organization preserving historic and civic traditions of Boston, Massachusetts, and the United States. The oldest chartered military organization in the western hemisphere, the Ancients have had their headquarters and Museum on the fourth floor of historic Faneuil Hall since 1742. Historically, members of this Company have served in every Massachusetts colonial war and national conflict since the company's founding in 1638. Today they participate in national holiday celebrations, add a measure of pomp and pageantry to the great events of our city and the Commonwealth and turn out for special commemorations. www.ahac.us.com
About the organizer
A non-profit 501(c)(3) organization fostering creative exchange in the visual and performing arts between the US and the post-Soviet States.
Visit us online: www.ballets-russes.com
Join our list: BRAI Mailing List