Paris HR Tech Alliances Speed Networking **Cancelled**

Monday, October 24, 2016 from 9:00 AM to 5:00 PM (CEST)
Event Details
Due to a scheduling conflict with HR Tech World Congress, this event has been cancelled.

Special Networking Event
Exclusively for people in HR Tech Partnerships & Alliances

(Please note: this event is not affiliated with the HR Tech World Congress that starts the next day)
---
Invite Only:
You were nominated for this exclusive *invite only* event by either French Tech Hub, Paris Region Enterprises, HR Tech Advisor, referred by an alliance friend or nominated by one of our Advisory Board Members:

---
Would you rather...
...spend 20 minutes trying to find a contact and an email address for a potential partner...
OR
...spend that 20 minutes actually talking with them?
---
20 Minute Business Meetings
"We have at least 4 concrete follow ups from the Networking Meetings."
Reto Ruegger, Founder at SoftFactors (Fall 2015 Event in Paris)
If you want to grow your indirect/channel sales next year via more warm referrals and introductions from your business partners, then this is the event for you! Meet other HR Tech executives from around the world looking to collaborate with leading HR Tech companies in pursuit of creating new partnerships & alliances. Up to 21 uninterrupted, face to face, mutually-vetted, 20 minute collaboration sessions. It's our 5th event and they have all been huge successes!
NOTE: There will be two sessions, morning and afternoon, and you can pre-schedule from 1 up to 21 meetings during any part of the day that fits your schedule. 
---

How will this Speed Networking work?
7 Days Before Event:
An email will provide you access credentials for our scheduling platform to:

See who is coming & review their personal + company profiles

Use the tool to request meetings from those with whom you'd like to have a 20 minute in-person meeting

Review meeting requests from others & accept or decline
After requests are accepted, the scheduling platform will auto-assign an available table for each meeting.
Day of Event:
Every 20 minutes we'll ring a bell to remind you it's time to move to your next meeting. Swap business cards then take notes while you meet HR Tech vendor executives from around the world: United States, Canada, France, UK and many more countries.
No more leaving meetups to chance - good collaboration starts here!
---
What's it like?
Check out this video from a recent event we conducted in partnership with TAtech:
What are people saying?
Josh @ TextKernel – "I got 15 great opportunities!"

Esther @ Workday France "The event was awesome – very busy and a good opportunity to meet other software vendors as partners & integrators."

Walter @ Cammio "Easy interface to schedule meetings" 

Steven @ CareerBuilder UK – "I have to say it was one of the best organised events that I've ever attended so credit to you guys! The concept is completely new to us from the UK but the fact we already knew who we were meeting meant we could plan in advance."

Mark @ HRmarketer – "Your was a huge hit and I was very impressed with the entire operation. In short, you guys hit it out of the park!"

A recent survey of attendees had -0- negative reviews and a 36.4% 'Very Beneficial' score.

At TAtech in Vegas last month, the networking room had 650+ vendor-to-vendor pre-scheduled meet-ups.
---
Agenda:
Oct. 17th

12:00

 CET

Scheduling Platform opens (access credentials emailed to registrants)

Oct. 24th

08:00 - 9:00

 CET

Check-in, Breakfast, Welcome from French Tech Hub CEO, Q&A

 

Oct. 24th

09:00 - 12:00 CET

Speed Networking (1 to 9 meetings)

Oct. 24th

12:00 - 13:00pm CET

Lunch Buffet / Casual Networking

Oct. 24th

13:00 - 17:00 CET

Speed Networking (1 to 12 meetings)
---
Special Bonus:
EVERY TICKET includes a One Month Membership in HRTechAlliances.com! 
---
Floor Plan (click to view larger):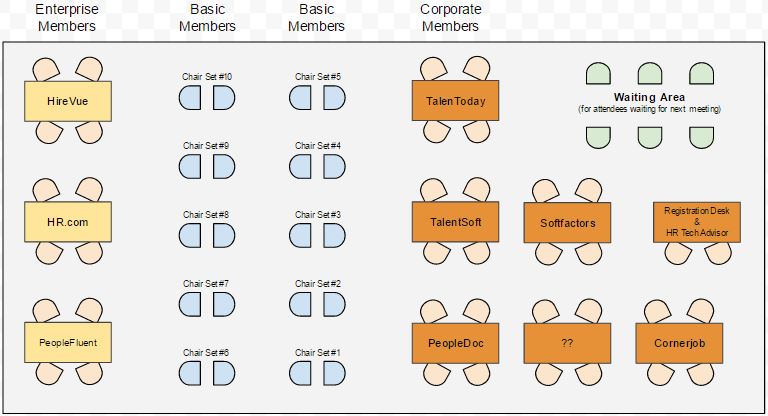 NOTE: The meeting space is limited to 50 companies, so don't delay in signing up!
---
This event is produced & sponsored by: 

---
FAQs
Q: What should I bring to the event?
A: Bring 20+ business cards, a one-pager to help facilitate discussions and as a 'leave behind' for your guest, note paper (even if you have an exceptional memory, taking notes shows you are interested).
---
Who will be attending?
Meet HR Tech/Service companies from around the world! Past attendees have included:
AgCareers

AllNurses.com

Appcast

ApplicantPRO

aRefChex

ASAE

ASME

Avature

Benify

Beyond.com

Boxwood Career Center Services

BrightField Strategies

Broadbean

Cadre

Cammio

CareerBuilder

CEB

Chetu.com

Clinch

CloudMills

Cognius

College Recruiter

Concentra

Cornerstone OnDemand

Crowded.com

Deltek

DICE

Digi-Me

disABLEDperson.com

Elements Global Services

Emplo

Employment Background Investigations

Employment Screening Resources (ESR)

Engage Talent

Engagedly

eTeki

GamePlan Learning

Glassdoor

Globoforce

GoodHire

HappyOrNot

HarQen

Healthcare Staffing Technologies

HealthCareerCenter.com

HealthJobs.com

HealthJobsNationwide.com

Herefish

HG Solutions

HigherEdJobs

Hire360

HireVue

Hodes

HR.com

HRmarketer

HRPayrollSystems.net

HRsoft

IBM Kenexa & Smarter Workforce

iCIMS

Idibu

iHire

Jobg8

JobMonkey

Jobs2Careers

JobsinLogistics.com

Juju.com

Kahuso

KRT Marketing

LeadIQ

Lensa

Lumesse

Monster

mroads

NewHire

Ongage

Onrecruit

Pageup People

Paycor

PeopelAssessments.com

Providence Technology Solutions

Raet

Rchilli

RealMatch.com

Recroup

Recruiter.com

Recruitics

RecruitMilitary

RestorationMedia

Results Generation

Resume.com

reThink Data

Shaker Recruitment Advertising

SHRM

Smartrecruiters

Smashfly

Softfactors

SwoopTalent

Talent Inc

Talent Tech Labs

TalentDesk

Talentsoft

Textkernel

TextRecruit

Upward.net

VetJobs

Vidcruiter

VISANOW

Visocon

ViziRecruiter

WebScribble

Wellevue

WeVue

Whil Concepts

Workable

Workforce Planning Group

Workforce Software

Zendesk

ZipRecruiter

When & Where

Paris Region Enterprises
Batiment 28, 11 rue de Cambrai
75019 Paris
France


Monday, October 24, 2016 from 9:00 AM to 5:00 PM (CEST)
Add to my calendar
Organizer
HR Tech Advisor
HRTechAlliances.com Board of Advisors Represented By:
Monster, IBM, HireVue, Cornerstone OnDemand, CEB, Employment Screening Resources, Nakisa, PeopleFluent, ASAP (Association of Strategic Alliance Professionals), Phoenix Consulting Group, Delancey Street Partners
Paris HR Tech Alliances Speed Networking **Cancelled**