Sales Have Ended
Ticket sales have ended
Thanks for registering! See you there!
Sales Have Ended
Ticket sales have ended
Thanks for registering! See you there!
Description
Join us for an informative and fun date night where you will CONTINUE to laugh, eat yummy snacks, and go home with solid skills and understanding around healthy sexuality and sex education. This evening is designed for parents to dig deeper into specific, parent driven questions and concerns regarding sexuality, education, values, religious beliefs, and concerns. Parents must have attended part 1 to be eligeble for this event. Please contact Georgia if you need special arrangements regarding part 1.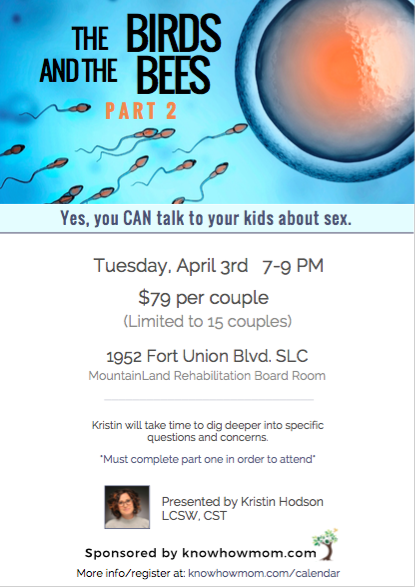 About our guest, Kristin Hodson:
Kristin Hodson is an AASECT Certified Sex Therapist, Founder and Executive Director of The Healing Group, a mental health clinic in Salt Lake City, and Co-Author of the book Real Intimacy: A Couples Guide for Genuine, Healthy Sexuality (Cedar Fort 2011). As a sex therapist, she has a unique ability to break down the topics of sexuality into easily digestible pieces empowering people to further develop their sexual identity, hone their sexual values, improve their communication around sexuality all with the intention to improve people's relationships with themselves and others. She's approachable, relatable and has a light sense of humor around something that often feels intimidating or heavy. She has been a guest on RadioWest, Huffington Post, and featured at Sheknows.com, Women's Day Magazine, The Deseret News, The Salt Lake Tribune, Salt Lake Magazine, was a regular guest on the x96 on the Radio From Hell show taking live calls on sex and intimacy and regularly appears on KSL's Studio 5. She's married to an adventurous man and mother to three little wild things.
If you are signing up for this event, you may want to consider the followup event to be held April 3 where Kristin will go deeper into specific question/answers for specific parental concerns. Limited to 15 couples. Must attend first session to be eligible for Part 2.