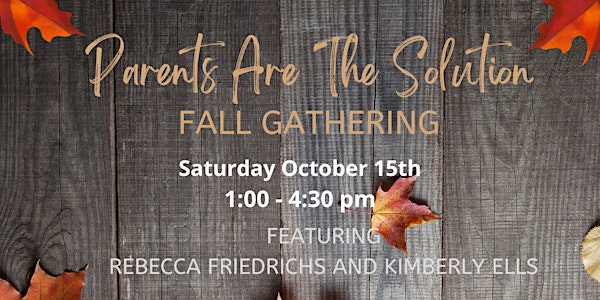 "Parents Are The Solution" Fall Gathering
2022 is the year of the parent! Join Minnesota Parents Alliance for an energizing afternoon of information and networking!
When and where
Location
Providence Academy 15100 Schmidt Lake Road Plymouth, MN 55446
About this event
We are delighted to welcome powerhouse parents, Rebecca Friedrichs and Kimberly Ells, to Minnesota to speak on the importance of parents and their role in education and in our world. Rebecca and Kimberly will each present their own remarks centered around our theme "Parents Are The Solution", followed by a moderated discussion hosted by Katherine Kersten and Catrin Wigfall. We will conclude the event with a social hour that will feature an opportunity to meet and greet Rebecca and Kimberly as well as network with other Minnesota organizations that focus on advocacy in the area of education and families. Don't miss this rare opportunity to connect, engage and gain inspiration as we move toward November and beyond! #MNParentsFTW
SCHEDULE OF EVENTS
1:00 - 2:00: Presentations by Rebecca Friedrichs and Kimberly Ells
2:00 - 3:00: Moderated Discussion by Katherine Kersten and Catrin Wigfall w/Q&A
3:00 - 4:30: "Parents Are The Solution" Social Hour feat. Rebecca and Kimberly (book/dvd signing and meet and greet) and aligned organizations (expo-style networking event)
SPEAKER BIOS
REBECCA FRIEDRICHS
Most recently known for her role in producing the groundbreaking documentary "Whose Children Are They?", Rebecca Friedrichs is part of a national movement to restore the voices and authority of parents and teachers in America's schools.
As a twenty-eight-year public school teacher, she was forced to fund unions whose politics and divisive tactics degraded her profession, our schools, and our national character.
Her lawsuit, Friedrichs v California Teachers' Association, brought with ten other teachers, was argued before the U.S. Supreme Court in January 2016, and blazed the trail for ending forced unionism for all teachers and government employees in the United States.
Rebecca is the author of Standing Up to Goliath which exposes the corrupt and abusive teacher unions told through dozens of powerful personal accounts.
Rebecca, along with her husband Charles, also founded For Kids and Country a national movement of parents, teachers and citizens uniting to restore our schools and culture. Her editorials can be found in the Washington Times, Washington Examiner, FOX News, and other outlets. She appears regularly on radio and television outlets and she is the host of a Prager University video on why good teachers want school choice, and she was the second speaker on the opening night of the 2020 Republican National Convention.
Most importantly, Rebecca is a lover of Jesus Christ, the wife of Charles and mother of two grown sons Kyle and Benjamin.
KIMBERLY ELLS
Author of "The Invincible Family: Why The Global Campaign To Crush Motherhood and Fatherhood Can't Win", Kimberly recently gave an hour-long interview with Tucker Carlson on her profound perspectives regarding the role of parents. She is an avid researcher and writer on family issues and has worked as a policy advisor for the past nine years. Kimberly has written for The Federalist, Townhall, Life Site News, The New American, The Epoch Times, MercatorNet, the Daily Signal, and other outlets. She has also spoken at venues across the country, including the United Nations. Kimberly graduated from Brigham Young University with a degree in English. She is married and is the mother of five children.