Creating teaching opportunities as we raise our children. | Creando oportunidades de enseñanza mientras criamos a nuestros hijos.
About this Event
FREE WORKSHOP | TALLER GRATIS
Wednesday, Feb. 24th (Español) & Thursday, Feb. 25th (English)
7:30pm-9:00pm
via ZOOM
REGISTRATION REQUIRED | REGISTRACION REQUERIDA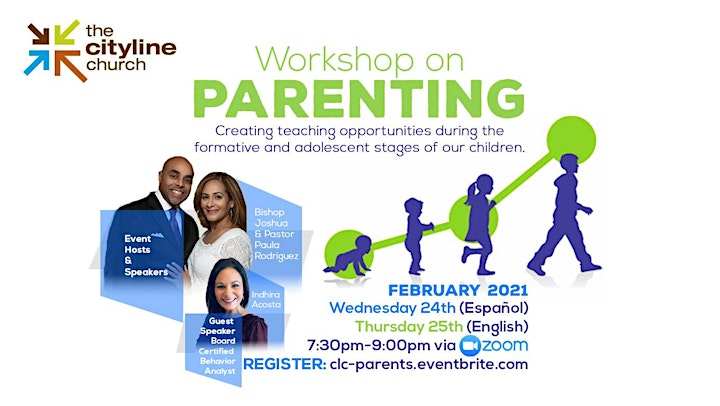 TOPIC: The Adolescent Stage
BISHOP JOSHUA & PASTOR PAULA RODRIGUEZ
TOPIC: The Formative Years
GUEST SPEAKER: Indhira Acosta is a Board Certified Behavior Analyst in Winter Park, FL. Indhira has her master's degree in psychology, with a focus in Applied Behavior Analysis (ABA). She received her master's degree at the University of Nevada, Reno in 2003, where she completed her coursework towards obtaining her Board Certification. She has experience working as a Behavior Analyst in a variety of settings including public school systems, ABA clinics, in-home services, other community settings, such as restaurants, doctor/dentist offices, and telehealth services. She is passionate about training caregivers and educators, helping them understand behavior, how it is shaped and how it is changed.
TEMA: La Etapa de Adolescencia
OBISPO JOSHUA Y PASTORA PAULA RODRIGUEZ
TEMA: Los Años de Formación
EXPONENTE INVITADA: Indhira Acosta es analista de comportamiento certificada por la junta, en Winter Park, FL. Indhira tiene su maestría en psicología, con especialización en Análisis de Comportamiento Aplicado (ABA). Recibió su maestría en la Universidad de Nevada, Reno en el 2003, donde completó sus cursos para obtener su Certificación de la Junta. Tiene experiencia trabajando como analista de comportamiento en una variedad de entornos, incluyendo sistemas escolares públicos, clínicas ABA, servicios a domicilio, otros entornos comunitarios, como restaurantes, consultorios médicos / dentistas y servicios de telesalud. Le apasiona capacitar a los cuidadores y educadores, ayudándolos a comprender el comportamiento, cómo se forma y cómo se cambia.