About this Event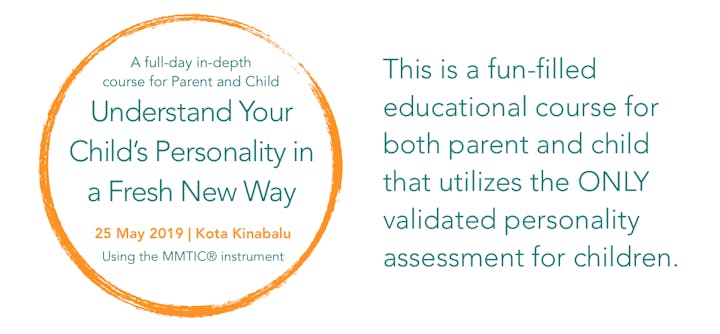 Main website: www.abilita.co/pwp
This is a full day course from 9.00 am to 4.30 pm on Saturday, 25 May 2019.
You will be brought through an exciting journey on how personality colors and influences the way we interact with the world.
By participating in this course, you will begin to develop an understanding of how your own personality affects your child.
At each step will we help you learn strategies to communicate better with your child, taking into account each other's personality.
The entire course is designed to be interactive and participatory. Both parent and child will revel in the joy of discovering more about themselves and each other.

After this course you will:
Be able to identify the personality type characteristics of your child
Be able to clarify your child's learning style and preferences
Learn how to co-develop new learning strategies with your child
Be able to create new communication patterns based on personality type framework
After this course your child will
Begin to accept his/her individual uniqueness
Appreciate different ways of learning
Be able to identify a preferred learning style
Explore personal strength and career goals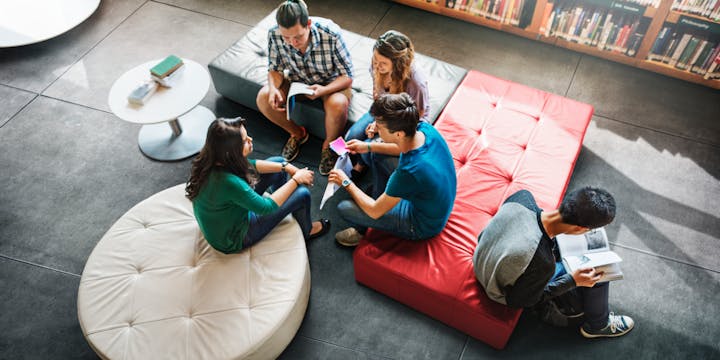 WHY UNDERSTANDING YOUR CHILD'S PERSONALITY IS SO IMPORTANT?
Personality encapsulates our individual uniqueness which fuels our thoughts, aspirations, and endeavors. It makes each one of us special in the way we think, socialize and make decisions.
When children are given the opportunity to understand their personality at an early age, they are able to accept themselves and experience a greater sense of confidence.
Personality also influences the way all of us learn and absorb information. By understanding aspects of personality related to learning, children can plan strategies to improve in their studies and become better students.
All children possess unique gifts that are waiting to be discovered. An understanding of a child's personality can give clues as to what the child will love doing when they grow up.
Most importantly, personality shapes the way we relate to each other. Some of the pain we experience in relationships are due to personality differences. Identifying these differences will help family members become closer and more understanding towards each other.

WHAT IS THE MMTIC®?
Introduction
The Murphy-Meisgeier Type Indicator for Children® (MMTIC®) is a validated psychological questionnaire (or instrument) that is used to identify important aspects of a child's personality.
It was designed to help children develop greater awareness of their preferred ways for processing information, making decisions, and forming relationships.
Students can use this information to develop study habits that are more effective for their natural styles, for understanding how and why they make choices the way they do, and for helping them with friendships and personal relationship skills.
What is the MMTIC® instrument based on?
The Murphy-Meisgeier Type Indicator for Children® (MMTIC®) was designed to measure personality type, according to the definitions of type differences in normal personalities first proposed by Carl G. Jung and further developed by Isabel Myers.
The type dichotomies that form the principal constructs of the MMTIC® derive from the same theory, and hence are identical to the constructs of the Myers-Briggs Type Indicator® (MBTI®) instrument.
The two instruments differ in their targeted age groups; the MMTIC® was developed to better assess children.
How can parents use the MMTIC®?
When parents know and understand their children's psychological type preferences, they can better understand how and why one child might respond to direction, praise, tasks, time, and energy differently from another.
As a result, parents are better able to match their advice and discipline to the styles of individual children so that they are best able to hear and understand the messages.
Is the MMTIC® reliable?
In short, the answer is YES. However, this is an important question which warrants further clarification.
A careful revision of the questionnaire was undertaken by Dr. Meisgeier and Dr. Murphy prior to the publication of the current version. Subsequently, extensive research was carried out using a large sample of almost 4000 students between 8 and 18 years old in order to validate the MMTIC®.
The results were subjected to rigorous statistical analysis to meet internationally accepted standards.
The authors of the MMTIC® acknowledge that there is an inherent difficulty in assessing personality in children. Difficulties largely stem from to their constant growth and varying levels of maturity. However, every effort has been made to address these issues in the design and administrative process of the MMTIC®.

FREQUENTLY ASKED QUESTIONS
I am confused. Is this a children's program or a course for adults?
Both actually. Parents and children will each have a program at the same venue and it will be held simultaneously.
Why hold two simultaneous courses at once?
We believe that in order to gain the most benefit from the MMTIC® assessment, both parent and child need an appropriate understanding of the results. The benefits of this will be a stronger bond and a deeper understanding between parent and child.
What if both parents would like to attend?
Certainly can be arranged. Please contact us for further details.
What if I would like to have more than 1 child attend?
Certainly can be arranged. Please contact us for further details.
Will there be any pre-course work?
Your child needs to complete the MMTIC® assessment via a secure online platform. After completion of the assessment, no other work is required. The MMTIC® was designed for a readability level of second grade (approximately age 8) in the English language.
​
How old should a child be when taking the MMTIC® assessment?
We recommend that children between 9 - 15 years of age attend this course and take the MMTIC® assessment.
YOUR SPEAKER & FACILITATOR
Yong Guang is passionate about helping children and families thrive. His insights into the psychological aspects of childhood and personality are derived from his professional training and work in healthcare and academic centers. Yong holds a Masters degree in counseling psychology and a second Masters degree in organizational behavior (York, USA). He is a certified MMTIC® facilitator and is also qualified by both the British and European Psychological Societies to administer psychometric instruments for learning and development.
Ruth Yap is a mother of two beautiful children and is a firm believer in progressive education. She is a former marine conservationist with an international non-profit organization that manages a diverse range of educational and conservation projects. She has extensive experience in conducting fun and engaging educational programs for children. She is also the founder of Zero Waste Sabah and a keen supporter of environmentally friendly living.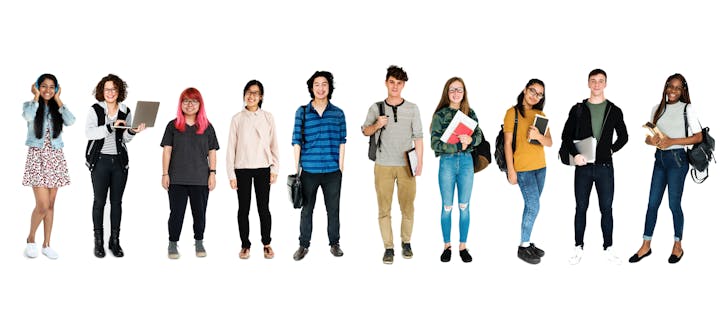 REGISTRATION & PAYMENT
Course Fees: RM 1,300
Special discont: RM 1,170 (Register using the MMTIC2U coupon)
This course includes the administration and full report of the Murphy-Meigeier Type Indicator for Children (MMTIC®) for 1 child
Interactive 1-day program for 1 parent and 1 child (which runs concurrently)
Course material for 1 parent and 1 child.
Light snacks with hot drinks provided.
Lunch is not provided. There are numerous shops within the vicinity which serve lunch.
Terms & Conditions
Full payment to confirm your place in the course
All fees due by 11 May 2019
Fees are non-refundable
Surcharges apply if both parents or if more than one child in the family would like to join. Please contact Ruth (016 829 2721)
No audio or video recording during the sessions

​
Alternatively you can bank course fees to:
Beneficiary name: ABILITA SOLUTIONS
CIMB Account: 800 977 455 2
Email transaction slip to abilita.co@gmail.com
Please register using this ONLINE FORM
If you have any problems or queries, please contact Ruth (016 829 2721).