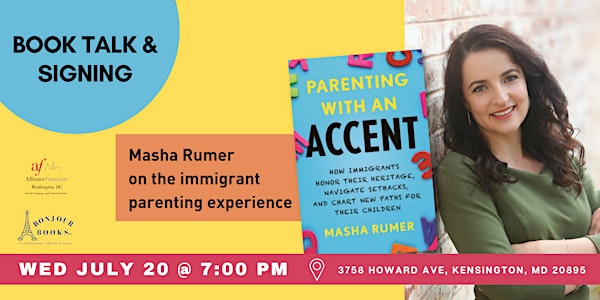 Parenting with an accent: Book Talk & Signing with Masha Rumer
Location
Bonjour Books DC
3758 Howard Avenue
Kensington, MD 20895
United States
Refund policy
Contact the organizer to request a refund.
Eventbrite's fee is nonrefundable.
Masha Rumer, an award-winning journalist and freelance writer, will discuss her book, Parenting with an Accent, at an in-person event.
About this event
Merging real stories with research and on-the-ground reporting, Masha Rumer, an award-winning journalist and an immigrant herself, explores multicultural parenting and identity in the US.
Through her own stories and interviews with other immigrant families, Masha Rumer paints a realistic and compassionate picture of what it's like for immigrant parents to raise a child in America while honoring their cultural identities. Parenting with an Accent incorporates a diverse collection of voices and experiences, giving readers an intimate look at the lives of many different immigrant families across the country. Using empirical data, humor, and on-the-ground reportage, Rumer offers interviews with experts on various aspects of parenting as an immigrant, including the challenges of acculturation, bilingualism strategies, and childcare. She visits a children's Amharic class at an Ethiopian church in New York, a California vegetable farm, a Persian immersion school, and more.
Masha Rumer will be in conversation with the Alliance Française of Washington's Executive Director Sarah Diligenti. Signed books will be available for sale at the event. You can order your copy in advance and have it signed by the author at the event. Click here to order.
This event is co-organized by the Alliance Française of Washington, Bonjour Books DC, and Russian Online Bookstore. It will be held outside in the courtyard of Bonjour Books DC (which is within a 3-minute walk of three independent bookstores including Russian Online and the Kensington Row Bookshop).
Russian Online Bookstore condemns Russia's invasion of Ukraine and is supporting Ukraine and Ukrainian refugees. If you would like to help, they are selling Ukrainian flag pins at their bookstore as a fundraiser for the World Central Kitchen, which is actively making sure that Ukrainians and Ukrainian refugees are able to enjoy a hot meal. More information on their website.
About the author
Masha Rumer is an award-winning journalist and freelance writer. Her work has appeared in The New York Times, The Washington Post, The Moscow Times, Parents.com, and elsewhere. Born in St. Petersburg, Russia, Masha holds graduate degrees from The City University of New York Graduate Center and Georgetown University. She is a former college instructor of writing and English as a Second Language. She lives in California with her family.