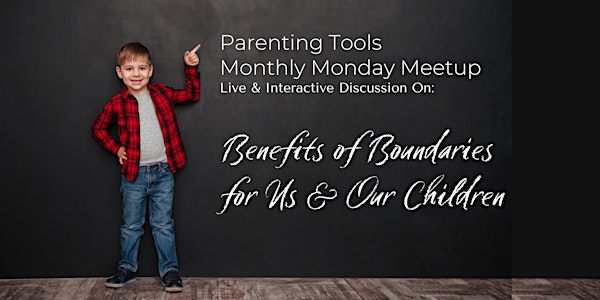 Parenting Tools Monthly Monday Meetup
Join us for live & engaging discussions monthly via zoom. All parents & caregivers are welcome. Our focus is on parenting & neurodiversity.
About this event
December's Topic
The Benefits of Boundaries for our children & us.
Healthy boundaries benefit everyone, especially parents and children who are highly sensitive. Research shows healthy boundaries can:
Strengths our identity and self-esteem
Give us clarity and self-awareness on our likes/dislikes
Brings focus to our inner needs
Enhances mental health and emotional well-being
Helps avoid burnout
Prevents or lessens emotional outbursts and overwhelm
On Monday, December 12th, we will discuss the benefits of boundaries for us and our children, identify where our child and we need to exercise more limits, and overcome obstacles that block us from creating/enforcing our boundaries. It should be a very engaging conversation.
Some people like to just listen, while others enjoy joining the conversation.
This free virtual monthly meetup is facilitated by an American Pediatric Occupational Therapist and a mom who is passionate about supporting parents with tips & tools to support their child's (& their own) development & well-being.
Each month these tools & practices are shared through live open dialogs centered on the month's topic (see topics below).
We meet on the second Monday of each month.
Time: 9 am Pacific Standard Time (PST) | 12 pm Eastern Standard Time (EST) | 5 pm Greenwich Mean Time (GMT) | 7 pm (Eastern European Time) EET
Topics:
January: Creating new habits in the new year.
February: How to compassionately support our children in feeling safe & happy
March: How to mindfully manage stress (for our children & us)
April: The balance between helping our children & fostering independence
May: Power of presence in our relationships (with self & child)
June: How to help our children learn & grow (while having fun doing it)
July: Parenting with more joy & less stress
August: Back to school with less stress for our kids & us
September: How to help your child with self-regulation
October: Tips for working with your child's school
November: Alternative approaches to health and development
December: The benefits of boundaries (for our children & us)
2022 Dates:
January 10 | February 7 (1st Monday) | March 14 | April 11 | May 9 | June 13 | July 11 | August 8 | September 12 | October 10 | November 14 | December 12
If you cannot make it to the meetup, you can still receive insights, information & tips shared during the meeting in our online informational and supportive parent community. Click HERE to check out The Empowered Parent platform for free.
About the Facilitator:
Dr. Elizabeth Joy Shaffer, OTD, OTR/L, hosts this event. She is a U.S. board-certified occupational therapist (& mom) passionate about sharing insights & information to promote parent's and children's health & well-being. Throughout the last 20 years, Elizabeth has worked with thousands of parents, children, & professionals in North America, South America, Europe, Eastern Europe, Australia, & Africa. She understands the dynamics of living with neurodiversity from the individual's perspective, parent, & therapist. Talks focus on self-regulation, stress management, skill development, & common issues & challenges faced in the neurodiversity community.