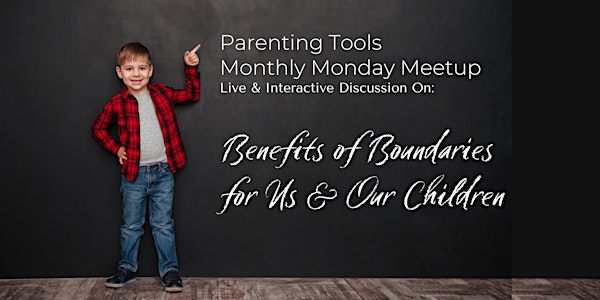 Parenting Tools Monthly Monday Meetup
Join us via Zoom on the second Monday of each month for live group discussions on various topics to support growth in our child & us.
About this event
This Month's Topics: The Benefits of Boundaries (for our children & us)
This free virtual monthly meetup is facilitated by an American Pediatric Occupational Therapist and a mom who is passionate about supporting parents with tips & tools to support their child's (& their own) development & well-being.
Each month these tools & practices are shared through live open dialogs centered on the month's topic (see topics below).
Take a break and join us. It's free!
We meet on the second Monday of each month.
Time: 9 am Pacific Standard Time (PST) | 12 pm Eastern Standard Time (EST) | 5 pm Greenwich Mean Time (GMT) | 7 pm (Eastern European Time) EET
Topics:
January: Creating new habits in the new year.
February: How to compassionately support our children in feeling safe & happy
March: How to mindfully manage stress (for our children & us)
April: The balance between helping our children & fostering independence
May: Power of presence in our relationships (with self & child)
June: How to help our children learn & grow (while having fun doing it)
July: Parenting with more joy & less stress
August: Back to school with less stress for our kids & us
September: How to help your child with self-regulation
October: Tips for working with your child's school
November: Alternative approaches to health and development
December: The benefits of boundaries (for our children & us)
2022 Dates:
January 10 | February 7 (1st Monday) | March 14 | April 11 | May 9 | June 13 | July 11 | August 8 | September 12 | October 10 | November 14 | December 12
If you cannot make it to the meetup, you can still receive insights, information & tips shared during the meeting in your inbox by registering HERE.
About the Facilitator:
Dr. Elizabeth Joy Shaffer, OTD, OTR/L, hosts this event. She is a U.S. board-certified occupational therapist (& mom) passionate about sharing insights & information to promote parent's and children's health & well-being. Throughout the last 20 years, Elizabeth has worked with thousands of parents, children, & professionals in North America, South America, Europe, Eastern Europe, Australia, & Africa. She understands the dynamics of living with neurodiversity from the individual's perspective, parent, & therapist. Talks focus on self-regulation, stress management, skill development, & common issues & challenges faced in the neurodiversity community.