Description
Parenting the Love and Logic Way
Facilitated by Shari Cissel
Thank you for loving your kids!
We know you're busy, but this is an opportunity to gain some practical parenting tools for raising respectful, responsible and happy children! Love and Logic will provide you with techniques proven over 40 years of testing in homes like yours. They make parenting more fun and less frantic.
These techniques are simple and easy to learn, have immediate and positive effects, lower your stress level, and increase the odds that you will enjoy the lifelong, positive relationship that you want with your kids.
Not only that, but you'll learn these techniques from first-rate facilitator Shari Cissel in a warm, supportive environment.
Better still, we make it easy, with inexpensive childcare available ($5/Child). Even homework help! And that makes it even easier to relax, enjoy yourself, and get the most of the six scheduled Love and Logic sessions, all scheduled for early 2019. Register today!
There is a $10 Materials Fee for the Love and Logic Workbook.
Join us for this Parenting series at Lower Brandywine Presbyterian Church. The group meets from 6:00 to 8:00 pm on the following dates:


Schedule:
Session 1 - February 28 Putting an End to Arguing, Back Talk, and Begging
Session 2 - March 7 Teaching Responsibility Without Losing Their Love
Session 3 - March 14 Setting Limits Without Waging War
Session 4 - March 28 Avoiding Power Struggles
Session 5 - April 4 Guiding Kids to Own and Solve Their Problems
Session 6 - April 11 Teaching Kids to Complete Chores...Without Reminders and Without Pay
Seating Is Limited, So Register Today.

FAQs
Who can attend?
Parenting the Love and Logic Way is open to the public, as well as to the LBPC Congregation. Are you a Parent...or a Grandparent...or anyone with responsibility for children? Then you are invited.


Is there a cost or donation expectation?
This six-session series is FREE and open to the public, as well as to the LBPC Congregation. Please note that there is a $10 Materials Fee that covers the cost of your Love and Logic Workbook.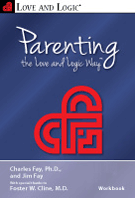 Is there a dress code for this event?
Please 'come as you are.'
Will refreshments be provided?
We encourage you to bring your own refreshments to this multi-session event. We'll provide the coffee and the tea!
Is the Church easy to get to?
Yes, it is situated right on Route 52 at Old Kennett Road, right across from Winterthur. It is 10-15 minutes from Wilmington and Northern Delaware; 15-20 minutes from Kennett Square, Chadds Ford, and Southeastern Pennsylvania.
What are my parking options at the event?
There should be plenty of FREE parking available right outside the Church. Spaces are available for the handicapped.
Where on the Church campus will this event be held?
This event will happen in the Lower Brandywine Presbyterian Church Social Hall. The entrance will be clearly marked on the evenings that the group meets.
Will childcare be available?
Absolutely...there is a nominal charge of $5 per child for childcare during each 2-hour session. Please note that 'Homework Help' is also available.
How can I contact the organizer with any questions?
The Church Office can be reached at 302.658.2326 during traditional business hours EDT.
Do I have to bring my printed ticket to the event?
You are encouraged to bring your printed ticket from EventBrite to the event. However, if you forget to bring it, we'll still let you in! Your registration will enable us to plan appropriately to accommodate the audience size.
Can I update my registration information?
Absolutely. Up until the time of the event.