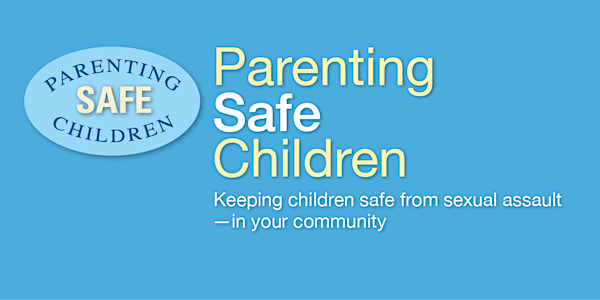 Parenting Safe Children Youth Professional In-Service 10/17/ 2022
The Parenting Safe Children Professional In-Service educates youth professionals about child sexual assault prevention policies.
About this event
Parenting Safe Children Professional In-Service As a youth professional, you are in a unique position to prevent child sexual assault. Not only can you empower children in your care and educate their parents, but you can also advocate for institutional policies and procedures that support child safety. In the Parenting Safe Children Professional In-service, educators will learn very specific tools to keep their organization—agency, school, hospital, health group, place of faith, or youth groups—off limits to sexual abusers. The Parenting Safe Children prevention model was developed over three decades in the field.
Objectives 1.  Professional Education — You will learn what makes children vulnerable to sexual abuse.
Who do people who sexually abuse children target and why?
How do people who sexually abuse "groom" children and adults?
What are the warning signs that a child, teen, or adult may be harming a child sexually?
What is the difference between age-appropriate sexual behavior and problematic sexual behavior?  
2.  Child Empowerment — You will learn body-safety rules that help keep children safe while in your care.
What is the role of boundaries and privacy in keeping kids safe?
What is the line between appropriate and inappropriate touch of children in your care?
How can you answer children's questions appropriately regarding sex and sexual development?
How can body-safety rules be applied in your organization?
How can you intervene effectively when children in your care are exploring sexually?  
3.  Building Safe Schools and Youth Organizations — You will learn policies, screening techniques, and reporting guidelines for your organization.
What are the characteristics of safe organizations?
What questions might an informed parent ask when asking about your child sexual abuse prevention policies?
What basic policies ought to be in place to keep schools, places of faith, and youth organizations off limits to sexual abuse?
How do you handle concerning behaviors of colleagues?
How do you handle sexual abuse disclosures from children?
How do you respond to a child if he or she discloses sexual abuse?
What are your reporting responsibilities when you know or suspect abuse of a child?
 Feather's Book: Off Limits
 A must-read parenting book – Off Limits: A Parent's Guide to Keeping Kids Safe from Sexual Abuse. Order with workshop registration and receive 10% discount, tax included. Signed copy delivered to you at workshop.
"Few books impact your life in a way to create lasting change; even fewer empower you to create lasting change in the life of someone else. A must-read!"— Parent of three (Read more testimonials)
In the Words of Other Professionals
"The Parenting Safe Children Professional In-Service is one of the most valuable that I engage in each year with my staff. Each person leaves with tools to keep children safe. As a parent & administrator, I recommend this training. Thank you Feather for this invaluable information!"—  Nancy James, Executive Director, Montessori of Colorado (Read more testimonials.)
For more Information:
Please contact Feather Berkower, feather@parentingsafechildren.com, 303-931-5782
Cancellation / No Show Policy:
Registration fees for Parenting Safe Children workshops are non-refundable and non-transferable to other workshop dates. We do not issue credits or refunds for any reason. If you cannot attend the workshop for which you have registered, we encourage you to find a friend or colleague to take your place. If you cannot find a replacement, you forfeit your registration fee.