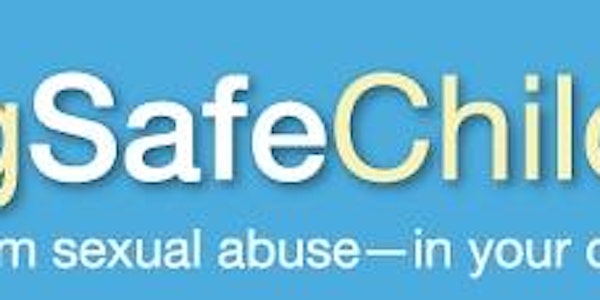 Parenting Safe Children - September 29, 2018
When and where
Location
PSC hosted by Mountain Kids Louisville, Mt. View Preschool and Jefferson Street Preschool in Boulder, CO 355 Ponca Place Boulder, CO 80303
Description
Parenting Safe Children Workshop

The Parenting Safe Children workshop offers valuable information, ideas, and tools to help you prevent child sexual abuse in your home and community! The workshop covers three prevention areas and empowers you to discuss body-safety with children and caregivers in a positive and effective manner. This 4.0 hour workshop is for parents, relatives, educators, therapists—anyone who cares about children!
Objectives
Identify what makes children vulnerable to sexual abuse, so you are empowered with the facts.
Learn body-safety rules, so you can teach your children about personal body safety, in an age- appropriate, positive, and non-threatening manner.

Develop screening techniques, so you can decide more confidently which caregivers you want to entrust with your children.
It's never too early to start talking with children about keeping their bodies safe. By starting early, you can create an environment that fosters safety and open communication.
Topics
Specifically, the Parenting Safe Children workshop will cover the following topics:
Creating a communication-rich environment for children

Empowering children to set and maintain boundaries

Body-safety rules

Characteristics of safe homes & schools

Secrets

Age-appropriate sexual behavior

"Teachable Moments"

Tips for screening childcare providers

Teaching manners while also teaching kids to say, "NO" if they are un-safe
In the Words of Other Parents
"Parenting Safe Children is the single most worthwhile parenting class I've ever attended. In fact, going to this workshop was the best thing I've ever done for my children. And, Feather Berkower is amazing!" — Michele Leifer, Parent (Read more testimonials)
Feather's Book: Off Limits & Conversation-Starter Cards - Order with workshop registration and receive a 20% discounted on the book price, tax included. Signed and delivered to you at the workshop.
A must-read parenting book – Off Limits: A Parent's Guide to Keeping Kids Safe from Sexual Abuse. Signed copy delivered to you at workshop.
"Few books impact your life in a way to create lasting change; even fewer empower you to create lasting change in the life of someone else. A must-read!"
— Parent of three (Read more testimonials)
Conversation-Starter Cards
Inviting caregivers onto your prevention team just got easier! With Parenting Safe Children "Conversation-Starter Cards," you can confidently initiate conversations about your child's body safety with all caregivers.
"We had one of the cards sitting on the counter when we had a new babysitter over and it led us into a great conversation about our body-safety policies."
For more Information please contact:
Anna Narvaes, 303-475-9289, anna@mountainkidslousivlle.com, Amy Chally, 303-494-3557, mtviewboulder@outlook.com, Bree Schaffer Pacheco, 303-666-6080, director@jeffersonstreetpreschool.com.
Cancellation / No Show Policy

Registration fees for Parenting Safe Children workshops are non-refundable and non-transferable to other workshop dates. We do not issue credits or refunds for any reason. If you cannot attend the workshop for which you have registered, we encourage you to find a friend or colleague to take your place. If you cannot find a replacement, you forfeit your registration fee.