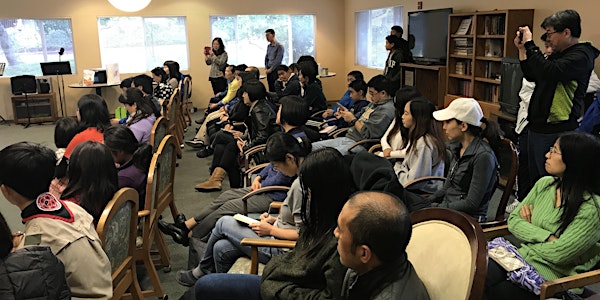 Parent Workshop - How to Talk to Teens so Teens Listen
When and where
Location
Home of Christ 1 71 Bay Rd Menlo Park, CA 94025
Refund Policy
Refunds up to 1 day before event
Description
Overview:
My teen says "I don't care" all the time.
I just want to know what's going on in their day!
My teen only gives me one word answers.

My teen doesn't listen to me, they'd rather listen to the internet or friends.
Do you struggle with why your teen just doesn't seem to understand the importance of being motivated, working hard or becoming more confident?
Do you feel like your teen doesn't communicate openly with you no matter what you do?
Do you ever feel like the advice you share with your teen goes in one ear and out the other?
We know what that's like because we used to be just like those teens. We are former Bay Area teens who are now young adults.
Come to our workshop where we help parents rebuild, reconnect and improve their relationship with their teens.
We will introduce some uncommon perspectives around how to approach teens, there will be small group discussions, and panel events.
For more about Orenda, check out our website.
Who are the presenters?
(Lead Presenter) Carl Shan: I am a 26-year-old former teen who immigrated to the Bay Area at the age of 5 from China. I grew up here with my parents and 3 younger brothers. After attending Lynbrook High School and UC Berkeley and getting a degree in Statistics, I worked in the tech industry in SF, Chicago and am now a high school computer science teacher in San Mateo. I have worked with hundreds of teens and parents through being a teacher and through Orenda.

(Co Presenter) Brandon Lee: I am 29 years-old, attended Lynbrook High School with Carl, competed in many athletic events and have worked in real estate and non-profit. I am passionate about helping students find their voice and to have confidence and clarity in pursuing the things they care about. I have been mentoring teenagers and young adults on the side for the last 8 years.
(Co Presenter) Chloe Lim: I grew up in the Bay Area as well, and attended UC Berkeley with Carl where I received degrees in Computer Science, Statistics and Spanish. I now work as a software engineer in San Francisco, but I have been passionate about education for as long as I can remember. In high school I was a student who always excelled academically yet still felt lost, unmotivated, and largely alone. I am now determined to empower others with the emotional tools I spent much of my adult life acquiring.
​
---
Topics:
How do today's teens think, and why they don't often listen to your advice

How to build trust and influence over your teen

How to reconnect and rebuild trust with your teens

How to communicate with your teens in a healthy way

How to manage time on phones and computers

How to set family rules that everyone agrees to and respects
---
How can I contact the organizer with any questions?
Feel free to reach out to us at OrendaAcademy.com or directly to Carl@OrendaAcademy.com