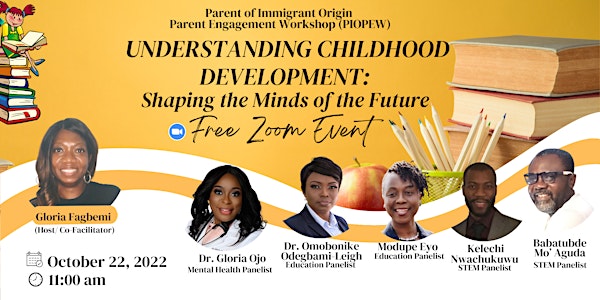 Parent Of Immigrant Origin Parent Engagement Workshop
A parent engagement event connecting parents and caregivers of immigrants origin to educational information, experts, and organization.
Refund Policy
Contact the organizer to request a refund.
About this event
Parent engagement in schools is defined by the Center for Disease and Control (CDC) as parents and school staff working together to support and improve the learning, development, and health of children and adolescents.
You'll leave this event ready equipped and ready to engage and connect with your child.
This is an online event. Once you're registered you'll get the Zoom Link to the event via email.
What's the event about?
The goal of the Parent Engagement Event is to connect educators, parents, teachers, community organizations, and caregivers to information that engages parents and children to fulfill their full potential in life.
Join us - on October 22nd at 11 am Prompt for the Parent of Immigrant Origin Parent Engagement Workshop 2022.
This is will be our 3rd event.
The theme for this year's workshop is Understanding Childhood Development: Shaping The Minds of The Future. There will be 2 panels for this event and each panel will be hosted by 1 - 3 guest speakers.
The Panel Topics Are:
Educational Panel - How to Help Your Child Discover Their Career Path (STEM and Art)
Mental Health Panel - Childhood Trauma and Suicide, Child Abuse & Neglect
Our Line Up of Speakers and Panelist Include:
Modupe Eyo - Education
Babatunde Aguda - Stem
Dr. Omobonike Odegbami-Leigh - Education
Dr. Gloria Ojo - Mental Health
Kelechi Nwanchuku - Stem and Robotics
Who the event is for?
If you are a Parent of Immigrant origin, come learn from this free event. If you're not, come register to learn about the immigrant family you serve.
Why Parent Engagement?
A brief introduction - I am Gloria a Nigerian American Parent raising 3 boys, you can check out my blog www.shelovesgoodthings.com.
I know you'll enjoy this event, a few of us have been working on the event for a few months now, coming together because we realized that we have to share what we've learned with other parents of immigrant origin as we see our own kids get older and phased out of the school system.
As a business or educator, you can also join us on October 22nd, and register so you can learn more about the immigrant family you serve.
Sincerely,
Gloria and the POIOPEW Team
send questions to: Hello@shelovesgoodthings.com
www.shelovesgoodthings.com
We can't wait to see you!