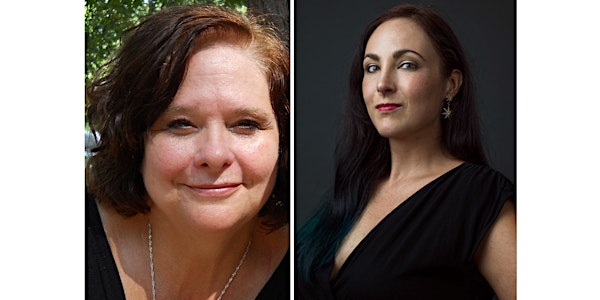 Paranormal Night! Authors Ann Hite and Delilah Dawson
A Novel idea presents PARANORMAL NIGHT! Local authors ANN HITE & DELILAH DAWSON share their literary works.
By A NOVEL IDEA Author Showcase
Date and time
Tuesday, April 18 · 7 - 9pm EDT
Location
Vintage Pizzeria Dunwoody 5510 Chamblee Dunwoody Road Dunwoody, GA 30338
About this event
ABOUT ANN HITE
At age 51, Ann Hite became a published novelist. Hite's debut novel, "Ghost On Black Mountain", won Georgia Author Of The Year and was a Townsend Prize Finalist in 2012. She is the author of the following books, The Storycatcher 2013 Simon & Schuster, Where The Souls Go 2015 Mercer University Press, Sleeping above Chaos 2016 Mercer University Press, a novella Lowcountry Spirit 2013 Pocket Book, Going to the Water Firefly Southern Fiction 2021, and her newest, Haints on Black Mountain: a haunted short story collection 2022 Mercer University Press, and a memoir, Roll The Stone Away 2020 Mercer University Press. Her books have been finalists in IndieFab and Georgia Author of the Year Awards. She has been nominated for three Pushcarts. Being a city girl most of her life, Ann now writes each day in her home office that looks out on a decent clutter of trees, where she is hard at work on a biography of Lucille Selig Frank, Leo Frank's wife.
ABOUT HAINTS ON BLACK MOUNTAIN
Ann Hite takes her readers back to Black Mountain with this haunted short story collection. An array of new characters on the mountain experience ghostly encounters. The collection took inspiration from her beloved readers, who provided writing prompts. Wrinkle in the Air features Black Mountain's Polly Murphy, a young Cherokee woman, who sees her future in the well's water. Readers encounter relatives of Polly Murphy as the stories move through time. The Root Cellar introduces Polly's great grandson, who tends to be a little too frugal with his money until a tornado and Polly's spirit pays the mountain a visit. In The Beginning, the Middle, and the End, readers meet Gifted Lark on an excessively frigid January day. This story moves back and forth between 1942 and 1986 telling Gifted and her grandmother Anna's story. This telling introduces spirits that intervene in the spookiest of ways.
ABOUT DELILAH DAWSON
Delilah S. Dawson is the New York Times bestselling writer of Star Wars: PHASMA, plus Galaxy's Edge: Black Spire, The Secrets of Long Snoot, The Perfect Weapon, and Scorched; the Blud series, Servants of the Storm, the HIT series, Wake of Vultures and the Shadow series (as Lila Bowen), and a variety of short stories in anthologies such as Death & Honey, Robots vs. Fairies, Hellboy: an Assortment of Horrors, Violent Ends, Carniepunk, Three Slices, and Last Night a Superhero Saved My Life. With Kevin Hearne, she is the co-writer of the Tales of Pell series.
ABOUT THE VIOLENCE
How far would you go to be free? Three generations of women forge a new path through an America torn by a mysterious wave of violence in this "chilling [and] dizzyingly effective" (The New York Times Book Review) novel of revenge, liberation, and triumph.
"A compulsively readable fusion of domestic thriller and modern horror."—Kameron Hurley, author of The Light Brigade
"A novel that defines this era."—Stephen Graham Jones, New York Times bestselling author of The Only Good Indians
ONE OF THE BEST BOOKS OF THE YEAR: The New York Times
They call it The Violence: a strange epidemic that causes the infected to experience sudden bursts of animalistic rage, with no provocation and no memory of their crimes. While it tears the nation apart, one woman sees something unlikely in the chaos—an opportunity.
Chelsea Martin has been a prisoner in her own home for too long. Her controlling husband has manipulated her for years, cutting her off from all support. Her narcissistic mother is no help, and her teen daughter is realizing she might be falling into the same trap when her once adoring boyfriend shows a dark side.
But when the Violence erupts, Chelsea creates a plan to liberate herself and her daughters once and for all.
What follows is a shocking and thrilling journey as three generations of women navigate a world in which they are finally empowered to fight back. Somewhere along the journey from her magazine-ready Tampa home to the professional wrestling ring, Chelsea becomes her own liberator, an avatar of revenge and hope, and a new heroine for a new world.