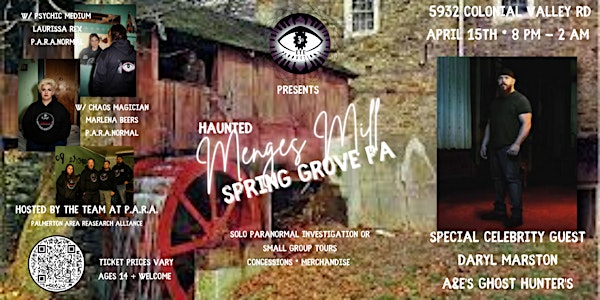 P.A.R.A.NORMAL Mayhem at Menges Mill!
Are you ready to be the first to investigate the mill with Daryl Marston of TVs Ghost Hunters, Laurissa Rex, psychic medium and P.A.R.A.?
By Third Eye Productions, LLC
Date and time
April 15 · 8pm - April 16 · 2am EDT
Location
Kim's Krypt Haunted Mill 5932 Colonial Valley Road Spring Grove, PA 17362
About this event
Join the team at P.A.R.A. psychic medium Laurissa Rex and TVs Ghost Hunters Daryl Marston for some concessions and a historical first-ever evening..... capture some souvenir footage of your experience and have some incredible psychic medium interactions at the mill and the surrounding buildings during the first EVER investigation by the team at P.A.R.A.
This event will take place over 6 hours with time being split between the haunted Mill and the House of Eyes; a building used as part of the haunt that also harbors lots of paranormal activity. During the investigation you will experience incredible interactions with psychic mediums Laurissa Rex and Marlena Beers of P.A.R.A. as well as special guest Daryl!
If you choose the TOUR option you will have exclusive access to the psychic mediums during the evening as well as Daryl. Solo hunters will be released after the meet and greet and will have interactions throughout the evening with Daryl and psychics while roaming the property.
You will begin your evening checking in at 7:00 PM. Please have a valid drivers license in order to pick up your rental equipment. Please note there are over 75 tickets for sale and only 15 equipment bundles so quantities are LIMITED! It is HIGHLY SUGGESTED bundles are selected here in the check out menu.
There will be a meet and greet, a photo op, autograph signing, opportunity for merchandise ales and presale of your souvenir invest8igation footage for the evening. Concessions will also be available all evening as well.
You can join the team for a tour you can free roam with your own equipment. There will be equipment packages for rent for those who need it (limited) and souvenir footage of the investigation for your review later on.
This is a first for the team at P.A.R.A. and for Daryl so uncover history with us through an in-depth paranormal experience like no other! The Haunted Mill and surrounding 64 acres have over 250 years of history dating back to the original settlers of the region. After centuries of amazing family settlements and church ties the mill and 6 surrounding buildings were purchased in 2014 and turned into a haunted attraction. The owner, a haunt attraction enthusiast, never imagined her purchase would be that of an actual haunted location.....but with this much history how could it NOT be haunted?
DO YOU WANT TO INVESTIGATE AT DIFERENT VENUES BUT YOU DON'T HAVE THE FUNDS? JOIN OUR MONTHLY MEMBERSHIP AND INVESTIGATE AT ANY 12 VENUES WHERE WE HOST IN A YEAR'S TIME AND AFTER 1 YEAR OF MEMBERSHIP YOU GET A FREE TICKET TO ANY VENUE OF YOUR CHOICE! SIGN UP HERE
For the history of the mill click here
*Please dress according to the weather.
*Please arrive by 7:00 pm for check in and registration.