Paranormal Investigations and Programs in Museums and Historic Sites

Monday, August 21, 2017 at 1:00 PM

-

Monday, September 11, 2017 at 4:00 PM (PDT)
Event Details

Paranormal Investigations and Programs in Museums and Historic Sites - Online Class
August 21, 2017
Three-Week Online Course - $165                                                                                                    

Do you want to know more about paranormal investigations and programs in museums and historic sites?

Have you been approached by a paranormal group to investigate your museum or historic site? Have you thought about developing your own ghost tour or program? ? Have you ever wondered what this is all about?

Increasingly museums and historic sites are approached by paranormal teams or investigators – and many have started to allow access on a fee basis and some have partnered with local paranormal teams or have developed their own special ghost programs and tours to bring visitors in who have curiosity about this. If done right, it is a great way to increase revenue and to teach history and folklore in an exciting new way for your visitors.

This short course will bridge both sides to create awareness in both groups. You will learn about the paranormal and how teams and investigators conduct their investigations – both the theories and methods will be detailed with real life examples. Those in the paranormal will learn about the mission of museums and historic sites and why there are policies in place to protect and preserve the sites and their collections. We will review museum policies for outside groups and why museums have these policies and how they should be applied to paranormal investigations. The pro's and con's of allowing this sort of access will be reviewed. At the end we will ask each participant to formulate their own draft policy / program / research plan for a museum or historic site.

The course is all done on your own time and schedule. Each Monday you will receive a link where you can download the readings for that week. Discussion and questions will all be done via email. The course is structured so you can fit this into your busy schedule.



Have questions about Paranormal Investigations and Programs in Museums and Historic Sites?
Contact David Harvey
Attendee List
Sort by:

Date

|

First Name

|

Last Name
When
Monday, August 21, 2017 at 1:00 PM

-

Monday, September 11, 2017 at 4:00 PM (PDT)
Add to my calendar
Organizer
David Harvey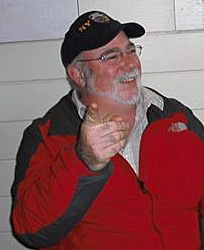 David Harvey has 30 years experience as a museum and conservation professional.
www.CityofAngelsConservation.weebly.com
He is also an independent paranormal researcher with extensive experience on residential cases and historic sites. David is the former historian and researcher for The Pasadena Paranormal Research Society.

David gives numerous lectures and radio interviews on the topic of the Paranormal and is a paranormal case manager and researcher who consults on cases around the USA. www.IDigDeadPeople.weebly.com

David has over 30 years experience in the museum and cultural preservation fields. He has been a museum blacksmith, an archaeologist, and historian. His long current career as a professional museum, art, artifact, architecture, monuments, and sculpture conservator and museum consultant with projects ranging from ancient Egyptian and Roman Antiquities, Native American artifacts, historic objects (including firearms and canons), Industrial objects, and a close encounter with the first artifacts that were raised from the RMS Titanic. David has been interviewed by NPR, "All Things Considered" and his experimental archaeology research into early American Iron making was featured on the PBS Show, "The Woodwright's Shop".