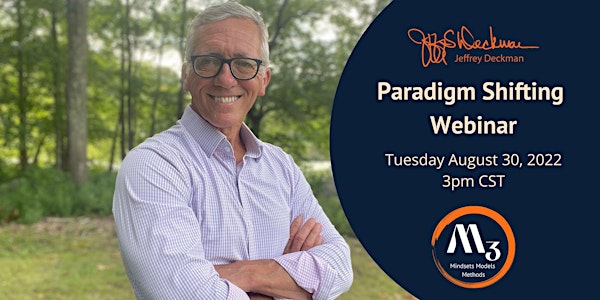 Paradigm Shifting Webinar
"It's what we don't know that we don't know that costs us dearly."
About this event
Do you struggle to answer these questions?:
Why are 7 out of 10 employees are not engaged in their work?
Why is the modern workforce so challenging to motivate?
Why is it so hard to maximize team performance?
How can I find the solution that solves this riddle?
Does this feel familiar?
You are puzzled by the lack of engagement and energy from your teams
You are thinking the problem is your people
You are starting to think the problem may even be you
You are running out of time and patience to solve the problem
If the answer to any of these questions is YES then take an hour from your day to attend a profoundly paradigm shifting webinar. Join international award-winning innovator and best-selling author on modern leadership and organizational development mindsets, models and methods, Jeffrey Deckman as he reveals the surprising source of these deep routed problems and what to do about them.
Learn
Why the problem is neither you nor your people
Why the problem exists
What the solution to solving it is
3 simple steps you can do to start solving it today
At the end of this session Jeffrey will reveal how you can become an M3 certified practitioner, with the ability to transform your leadership skills and revolutionize your entire organization.