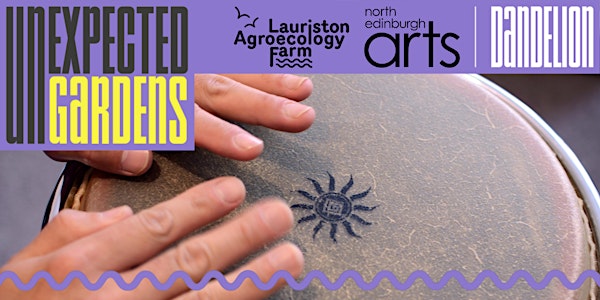 Parade Percussion Workshops on 15th, 22nd, 29th August & 5th September
Join our percussion parade crewe for Dandelion at Lauriston Farm's Harvest Festival 2022 which will take place on the 10th September.
When and where
Location
EH4 5EX Lauriston Farm Lauriston Farm Road Edinburgh EH4 5EX United Kingdom
About this event
About this event:
We will study African and Latin American percussion rhythms using the "Clave" as a "rhythmical seed" to build patterns that we can play while walking.
Session 1 on Monday 15th August (6pm-8pm): We will introduce the percussions instruments that we will have in the sessions: portable cajons, cowbells, shakers and claves, we will study our "rhythmical seed" that is the "Clave" and how to play it with our instruments.
Session 2 on Monday 22nd August (6pm-8pm): We start to build our main pattern from the variation of the Clave, as branches from the same tree, we will get into the polyrhythm: exploring our capacity as a collective to play different rhythm patterns at the same time as one another.
Session 3 on Monday 29th August (6pm-8pm): We will prepare the ultimate polyrhythm pattern, a blend of Afro Latin American rhythms using all the instruments that we have and with the capacity to move around with the portable cajons, shakers and cowbells.
Session 4 on Monday 5th of September (6pm to 8pm): Take your drum and go to rehearse! The rehearsal of the parade with the whole crew of musician that also includes the "AMAzing Harmonies Choir", the kids "AMAzing Cajons" group, ", "Granton Youth's Music Group" and the "sikuris collective": a group of Latin American sikuris players that will join us in the Harvest Festival.
The final performance is on Saturday 10th of September, in the Harvest Festival's parade - exact times to be confirmed, but it will be some time between 2pm and 5pm.
For ages 14+
No drum or previous experience is required.
Ideally you will sign up to all 4 sessions.
Participation in the Harvest Festival on 10th of September is essential.
Free to attend.
We'll be working outside (under cover), so please wear weather appropriate clothing.
This workshop will be facilitated by our Dandelion Musician in Residence Jose Rojas. El taller Afro Latin American percussion.
- - - - - - - - - - - - - - - - - - -
Getting here :
We encourage participants to travel by foot, bike or public transport when possible.
Lothian Buses: 16, 27,29 and 37 all come very close to the farm - within a few minutes walk from the bus stop. We'll be working in or near to the Unexpected Garden which is located just through the gate that leads off the Toby Carvery car park on Lauriston Farm Road, EH4 5EX.
There is limited car parking available at the Toby Carvery car park, otherwise there's ample residential parking in the neighbouring areas.
Access info : there is hard standing from the Toby Carvery car park to the sheltered area which is accessible by wheelchair. Please contact us directly in advance to discuss any further access needs and we'll do our best to support your inclusion at our event.