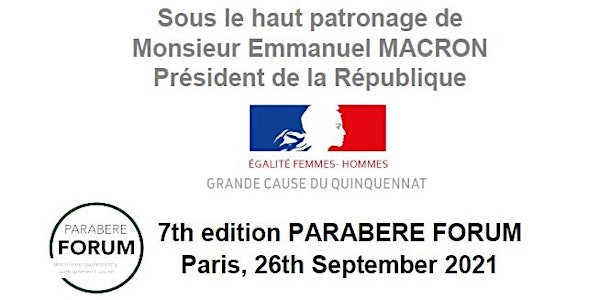 PARABERE FORUM 2021
7th edition of Parabere Forum will be held on the 26th of September 2021 virtually from Paris
About this event
7th edition of Parabere Forum will be held on the 26th of September 2021 virtually at 13:00 H Paris - 8:00 H Buenos Aires and 21:00 H Sydney via Zoom.
The forum will focus on the theme of "Community" and its duration wil be 1:30 H.
We will have live connections with Joanna Savill from Sydney, Narda Lepes from Buenos Aires and Apollonia Poilâne from Paris. They will interview stunning leaders of our industry, women who have done extraordinary things for our community in this very challenging past year - what they set out to achieve and why and how successful they have been, and lessons learned, particularly at this time. Has our community ever been more important?
Please note Parabere is a not-for-profit organisation - and your ticket price goes directly to hosting and managing this event. Tickets are not refundable.
We are also very pleased to be launching the second volume of the Parabere Essays :
ENCORE - Inspiring ways with leftovers, from 100 thoughtful cooks
Our heartfelt thank you to all the wonderful Parabere women who contributed their thoughts, recipes and ideas. Our community. Thank you.
For each copy sold, 5 euros will go to the Parabere Grant, helping to fund our aim to make the Forum accessible to those who, for financial reasons, are unable to attend.
Please, consider pre-ordering your copy!