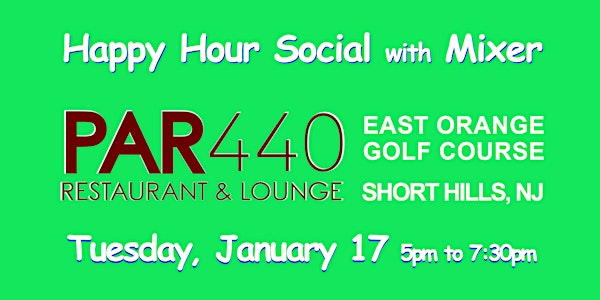 Par 440 ~ Short Hills, NJ ~ All New Happy Hour Social with Mixers
Come meet new single friends. Please scroll to the bottom of this page for details and more events.
When and where
Location
Par 440 Restaurant ~ East Orange Golf Course 440 Parsonage Hill Road Short Hills, NJ 07078
About this event
https://lp.constantcontactpages.com/su/W0m0VdJ/invitations
.
S I N G L E S _ H A P P Y _ H O U R _ W I T H _ M I X E R S :
You are invited! Join Wade, Kate and Ralph, your hosts and 45 guests from PBSN and 5 Meetups. You will experience a touch of class in the relaxed and casual atmosphere of this recently rebuilt Clubhouse.
Doors open at 5 PM ... Order your favorite drink and that appetizer that you have been thinking about all day. Chat with friends from a previous gathering ... then NEW ~ NEW ~ NEW, 6:15pm - Featuring mixers designed for you to get to know new people. YES, get to know people better whom you have met before and draw new participants into the group. so that they can get to know you. Let no attendee be left out! This is the event to attend ...
Business Casual attire; dress to impress! Appetizers, Dinner and Deserts additional; Cash bar.
New faces welcome! Tonight's event is sponsored by Professional and Business Social Network (PBSN) and several Meetup groups. We expect a fabulous crowd.
.
E V E N T B R I T E _ T I C K E T S :
$10 Eventbrite ticket
or
$15 at the door Tuesday, January 17
.
Click "G E T _ T I C K E T S" Button
Following your Ticket Purchase, you will receive from Eventbrite an email confirmation / receipt / ticket.
.
W H O _ W I L L _ B E _ T H E R E :
Please join us if you have a sense of humor, a generous spirit, and an overall positive attitude. Attendance may not be gender balanced.
.
T E R M S _ A N D _ C O N D I T I O N S :
http://www.pbsninfo.com/tac.html
.
C O N T A C T _ U S :
Professional and Business Singles Network, Ltd. PBSN
dba Professional and Business Social Network, PBSN