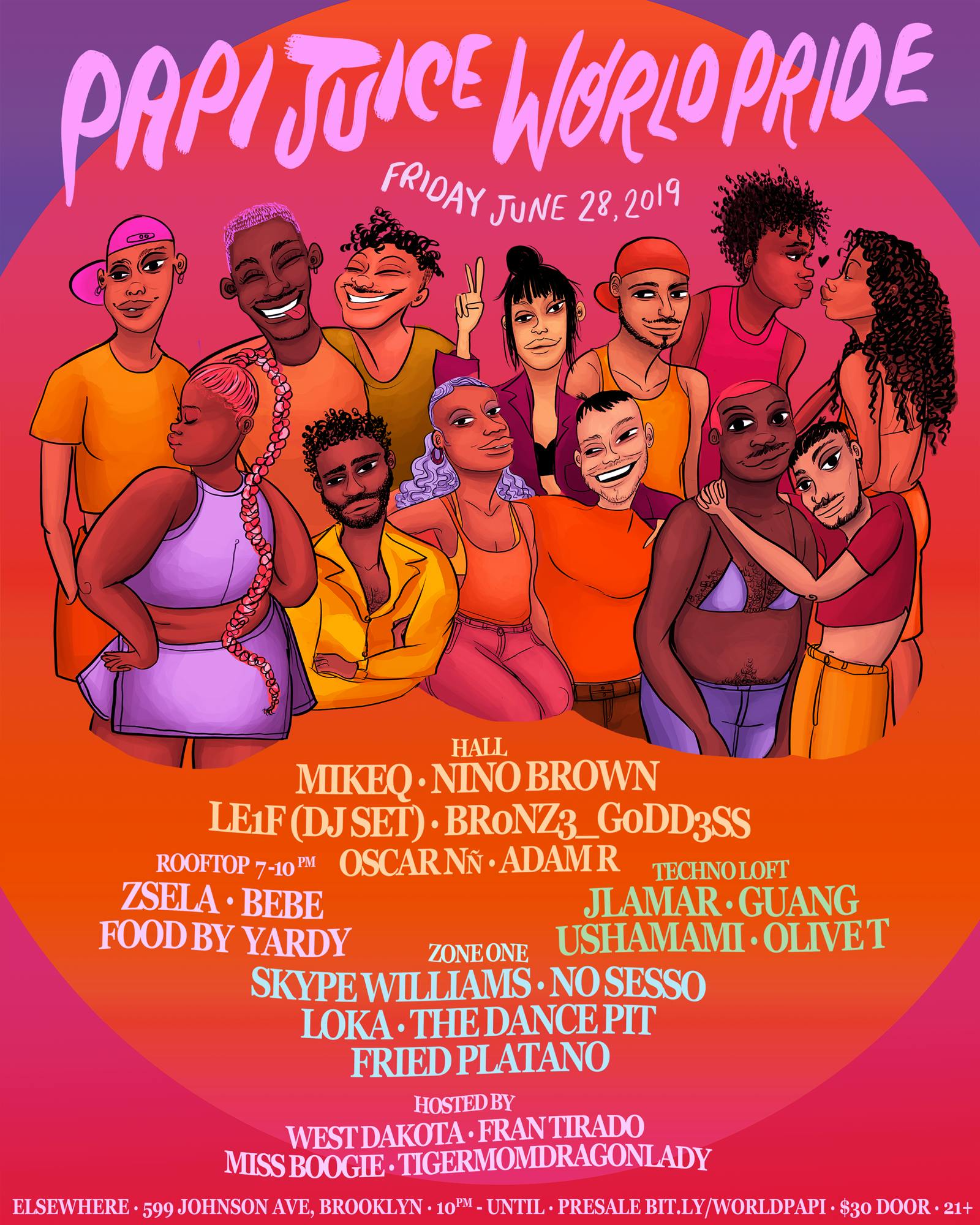 About this Event
PLENTY TICKETS WILL BE AVAILABLE AT THE DOOR NIGHT OF, PLEASE ARRIVE EARLY TO ENSURE ENTRY
ROOFTOP 7-10PM
**The 7pm-10pm rooftop reception is completely sold out and no tickets will be sold. Our World Pride party will begin at 10pm, with a limited amount of tickets available at the door subject to capacity.
★ ZSELA
★ BEBE
https://soundcloud.com/bebenyc100
HALL
★ MIKEQ
https://soundcloud.com/djmikeq
★ BR0NZE_G0DD3SS
https://soundcloud.com/br0nz3_g0dd3ss
★ LE1F (DJ SET)
★ NINO BROWN
ZONE ONE
★ NO SESSO
https://soundcloud.com/nosesso
★ SKYPE WILLIAMS
https://soundcloud.com/skypewilliams
★ FRIED PLATANO
https://soundcloud.com/friedplatano
★ LOKA
https://soundcloud.com/dj_loka
★ THE DANCE PIT
https://soundcloud.com/thedancepit
TECHNO LOFT
★ OLIVE T
https://soundcloud.com/olivetonic
★ JLAMAR
https://soundcloud.com/jlamarwashere
★ USHAMAMI
https://soundcloud.com/ushamami
★ GUANG
HOSTS
★ MISS BOOGIE
★ WEST DAKOTA
★ TIGERMOMDRAGONLADY
★ FRAN TIRADO
YOUR MAIN PAPIS
ϟ RESIDENT DJ: Adam R
https://soundcloud.com/acrhodes
ϟ RESIDENT DJ: Oscar Nñ
https://soundcloud.com/oscarnn
ϟ ARTWORK: Mohammed Fayaz
https://www.facebook.com/mojuicyart
ϟϟϟϟϟϟϟϟϟϟϟϟϟϟϟϟϟϟϟϟϟϟϟϟϟϟϟϟϟϟϟϟϟϟϟϟϟ
***PAPI JUICE IS AN INTENTIONAL SPACE FOR QUEER & TRANS PEOPLE OF COLOR. ANY RACIST, CLASSIST, SEXIST, HOMOPHOBIC AND/OR TRANSPHOBIC BEHAVIOR WILL NOT BE TOLERATED. IF YOUR BEHAVIOR IS FOUND TO BE DISRUPTIVE, YOU WILL BE ASKED TO LEAVE.
----
☼ About Elsewhere Rooftop
Elsewhere Rooftop is a seasonal large outdoor bar and events space, offering a signature frozen drink menu, shows & parties, sunset DJ sessions, food pop-ups, film screenings, art happenings, and much more all summer. Full calendar at https://bit.ly/2UMjRb3
☼ Hours
*The Rooftop usually opens at 6PM Monday through Friday and 2PM Saturday & Sunday, but is only open when the following events are happening: https://bit.ly/2UMjRb3 — please do make sure to check the rooftop calendar before stopping by!
☼ Food
Food is provided every Friday through Sunday this season by our good friends at Holy Ground BBQ, Brooklyn's tastiest BBQ pop-up. You can view the full menu here: https://bit.ly/2WHCB8J
☼ Rain or Shine Policy
All shows and events on the Rooftop are rain or shine! If the weather prevents us from carrying on, we will update customers via our website, Facebook, Instagram, Twitter, Eventbrite and Resident Advisor. 
☼ Safer Space Policy
ELSEWHERE MAINTAINS A STRICT ZERO TOLERANCE POLICY FOR HARASSMENT
Elsewhere is intended to be a safe space to enjoy music, art, expression, and free play. Our staff are trained to remove individuals engaging in any form of sexual harassment, acts of aggression (including leering), racism, misogyny, transphobia, homophobia, religious bigotry, or hatred and discrimination of any kind.
If you see or experience any unwanted attention, contact, bullying, harassment, or behavior of any kind that makes you uncomfortable, please speak out and notify our staff immediately.
Please read our full policy at: https://bit.ly/2VxByad