Join artist Helen Frederick for an online studio visit and papermaking demonstration.
About this Event
Enjoy a view of Reading Road Studio. Helen Frederick will demonstrate her process of making large sheets of translucent flax, produced for covers of a current artist book project. She will show you how she scores an image in the thin flax paper with a bone folder to draw/impress an image in the paper. Additionally you will enjoy seeing some of the paperworks in her collection that are created by means of pulp painting, textual embodiments, collage elements, and printmaking.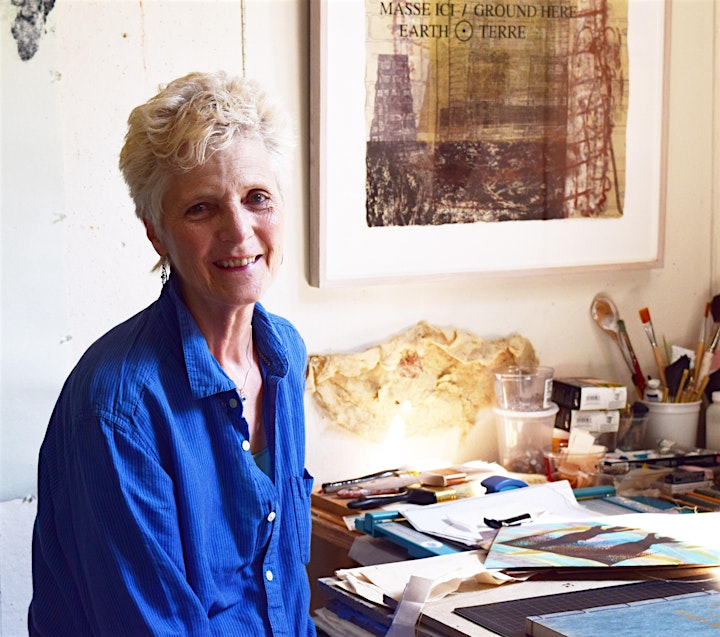 About Helen Frederick:
Helen Frederick is recognized as a distinguished artist, curator, educator, coordinator of international projects, and as founder of Pyramid Atlantic Art Center, MD, a center for contemporary printmaking, hand papermaking and the art of the book. Frederick, a graduate of Rhode Island School of Design, is Professor Emerita in the School of Art at George Mason University. Her work has been exhibited at the The Phillips Collection in Washington, D.C., The Eleanor D. Wilson Museum, Hollins University, VA, Dieu Donné Gallery in New York, Henie Onstad Kunstsenter in Norway, and the Museum of Modern Art in Kyoto, Japan, and is in collections of the Whitney Museum of American Art and Brooklyn Museum in New York, the National Gallery of Art, The Library of Congress, and Smithsonian American Art Museum in Washington, D.C. In 2008, she received the Southern Graphic Council International Printmaker Emeritus Award and was invited into the Feminist Art Base archive, the Brooklyn Museum of Art.
About the Center for Book Arts:
The Center for Book Arts promotes active explorations of both contemporary and traditional artistic practices related to the book as an art object. The Center seeks to facilitate communication between the book arts community and the larger spheres of contemporary visual and literary arts, while being a model organization locally, nationally, and internationally within the field. We achieve this through exhibitions, classes, public programming, literary presentations, opportunities for artists and writers, publications, and collecting.