Event Information
Location
All across America!
Cross Country!
Description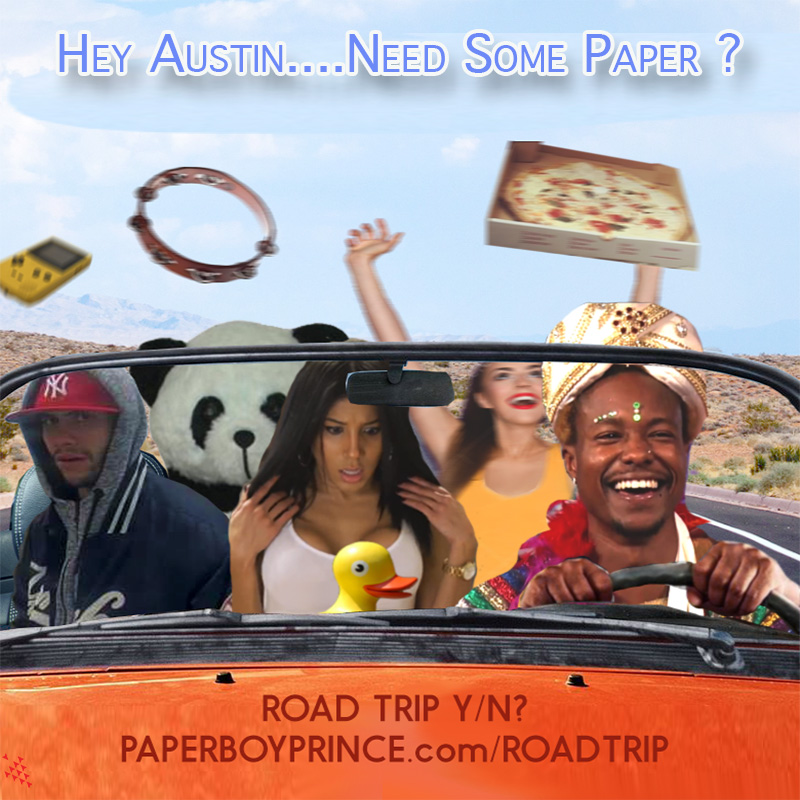 Hey! So we are planning to do a cross country road trip..Starting in NYC and Making it as far as we can live streaming the whole way and picking people up! Right now the destination is SXSW tech, film and music festival in Austin, Texas where Paperboy Prince of the Suburbs will be performing! We wanted to head to Alburquerque, New Mexico as a final destination for the trip to participate in the HeWillNotDivideUs art exhibit with our friend Shia Labeouf. The NM site has been closed so if another is announced we will head there.
In the meantime we will head to sunny Austin, Texas to start our own #ItsOurTime stream similar to #HewillnotDivideUs and to spread love and just have fun! We want as many people to come as possible and we want to visit as many places as possible and to do that...we need your help!
We are asking for donations big and small to help cover the costs of gas, lodging, streaming and more.
$50 , $100 , $250 make great donations if you want to help support the movement!
right now $499 is the base price if you would like us to pick you up and come a long for the ride! this would help to cover, gas, lodging and some food! Depending on where you stay (in the USA) and how long you ride that number may be more but this will secure your seat for the whole ride! Questions? text 727 379 2327 or email paperboytheprince@gmail.com
States we would like to visit?
New York
Pennsylvania
New Jersey
Delaware
Maryland
DC
Virginia
North Carolina
South Carolina
Georgia
Florida
Alabama
Louisiana
Missisipi
Indiana
Kentucky
Tennesse
Illinois
Arkansas
Oklahoma
Texas
New Mexico
Arizona
Nevada
California
***only will able to confirm certain states if the route/gas makes sense
Sign up for a free ticket to get a reminder of all of our daily streams!
Make a donation ticket to ensure this trip happens!
Buy a seat to secure your space in this once in a lifetime trip!
Date and Time
Location
All across America!
Cross Country!