Description
Join us for a workshop in Korean paper technique taught by artist Aimee Lee.
Korean papermaking has a history almost as long as papermaking itself. Korean paper, known
as hanji, is made from the inner bark of the mulberry tree, renowned for its long and strong
fibers. This makes hanji ideal for an array of applications suitable for book and fiber arts.
Students will add water to hanji to learn a felting and collage technique called joomchi, which
results in textured paper that is ideal for textile work, light and durable book covers, and stand-
alone display pieces. Joomchi can also be modified to create varying thicknesses of hanji yarn.
Using mulberry bark, students will also learn to make "lace" and thread for decorative bindings,
weaving, or installation. If time allows, students will learn how to cord hanji in the tradition of
jiseung, or paper weaving. This workshop is a great way for newcomers and papermakers alike
to discover new ways to manipulate and transform handmade paper.
Students will also have the chance to buy Aimee's new book about her Korean papermaking
research, titled Hanji Unfurled: One Journey into Korean Papermaking, published by The
Legacy Press. (http://www.thelegacypress.com/lee_page.html)
For more information about Aimee Lee's work, visit her website at http://aimeelee.net/
We will supply materials.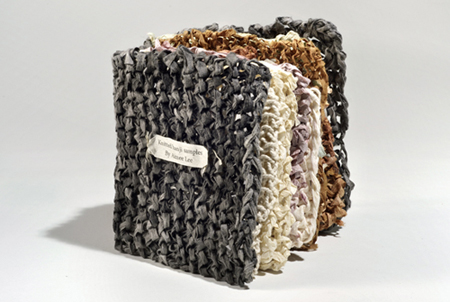 Organizer of Paper like leather, bark like thread: Korean paper techniques
The Boston Paper Collective Seeks to bring together the Boston Book-arts community by providing paper artists, book binders, and hobbyists access to the equipment they need to create high quality works. Exhibitions, classes and demonstrations expose Greater Boston to the history, craft, and science behind the book arts.
The studio is located at 523 Medford street in Charlestown, MA. We have a Vandercook sp20, Lee S. Mcdonald beater, mixer, 20 ton press, and 2.5′ x 3′ drying system, along with a vacuum table, vats, and moulds. We offer workshops, custom classes, pulp beating, one on one instruction and studio rental.
How to get here:
We are located behind the Schaffts building in Sullivan Square. It's a 7 minute walk from the Sullivan Square station on the orange line. The 92 or 93 bus go around the rotary to the schaffts building, but you need to request the bus stop by the schaffts building.
There are multiple bus lines that run from Cambridge, the 91 from central for example, if you are coming from Cambridge or Somerville, these are often faster than transferring to the orange line. From the Sullivan Square orange line mbta station walk around the rotary towards the schaffts building (it has a big glowing sign). Main street is the street in front of the schaffts building off of the rotary, take a right onto main. Walk one block and take a left at the fire station this is Medford street. We are two blocks down on Medford street, on the left.
If you are driving we are off of 93, head towards the Sullivan Square rotary, and take a right onto main street right before the schaffts building. Then a left at the next intersection onto Medford Street there will be a fire station on the corner. We are on the left about two blocks down. There is 2 hour parking in front of our building, the other side is residential, check the signs. We have half of the lot past the building on the left these are usually full before 3:30 on week days.
There will be a sign for the Stove Factory Gallery. Use the middle entrance with the double doors, we are on the second floor.