Description
Paper Dance
Once a week for 14 weeks, artist Janine Antoni performs Paper Dance, an improvised movement performance. Drawing on images and concerns that have long preoccupied her as an artist, Antoni uses rolls of brown paper originally employed by movement artist Anna Halprin in her seminal work Parades and Changes (1965). These performances take place within an installed arena of many wooden packing crates containing artworks by Antoni.
Each iteration calls for Antoni to begin by unpacking one of her earlier works from a crate, whether it be a sculpture made of chocolate and soap like Lick & Lather (1993) or a photographic image like Mortar and Pestle (1999). A 'retrospective' of Antoni's previous works slowly emerges over the duration of the exhibition, with chosen works appearing, remaining for a week, then disappearing as they are re-packed into the installed crates. Within this context, Antoni enacts the improvised performance work with paper, shifting its content weekly in relation to the installation's new assembly of her artistic history. When the performance is not taking place, a film of Halprin's earliest version of Parades and Changes is screened amidst the crated works. The paper remnants of Antoni's performances slowly accumulate over the course of the exhibition.
Running Time: 45 minutes to an hour (no intermission)
Note: This performance contains nudity.
To join the waitlist for a Paper Dance performance, visit the reservation links above or contact the Museum at reservations@fabricworkshopandmuseum.org or (215) 561-8888.
About the Exhibition Ally
Instigated by visual artist Janine Antoni in collaboration with preeminent choreographer, theatre, and community artist Anna Halprin and pioneer choreographer Stephen Petronio, Ally is a series of works combining sculpture, installation, film, and performance. Through a series of unique collaborations with Halprin and Petronio, the trio investigates the translation of ideas across forms and the vast potential that lies in their relations. The encounter between these artists from distinct practices and generations becomes a means of unearthing unknown affinities and historical entwinements. In alliance the artists forge a new visual language of tactile material held within processes of transformation. These works are being created through the Artist-in-Residence Program of The Fabric Workshop and Museum.
For more information about the exhibition, performances, and related programming, please visit FWM's website.
Major support for
Ally
has been provided by The Pew Center for Arts & Heritage. Initial support for this project was provided by Creative Capital. Additional funding comes from the National Endowment for the Arts, The Shipley-Miller Foundation, and the Board of Directors and Members of The Fabric Workshop and Museum.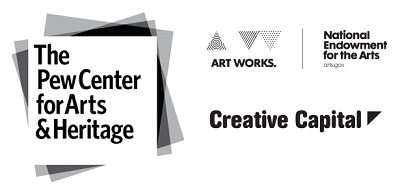 About the Artists
Janine Antoni (Bahamian, born 1964 in Freeport, Bahamas) graduated from Sarah Lawrence College in 1986 and received her MFA from the Rhode Island School of Design in 1989. Since then, her work has been featured in solo and group exhibitions at such institutions as the Whitney Museum of American Art, New York; Museum of Modern Art, New York; The Mattress Factory, Pittsburgh; S.I.T.E. Santa Fe; and The Irish Museum of Modern Art, Dublin. Recognized nationally and internationally for her entrancing works that bring together diverse media, Antoni has also participated in the Venice Biennale, Whitney Biennial, and the Johannesburg Biennale, among others. She has received many prestigious awards including the John D. and Catherine T. MacArthur Fellowship (1998), the Larry Aldrich Foundation Award (1999), the John Simon Guggenheim Memorial Foundation Fellowship (2011), the Creative Capital Artist Grant (2012), and Anonymous Was A Woman Grant (2014). Antoni lives and works in New York and is represented by the Luhring Augustine Gallery.
Graduating with a BA from the University of Wisconsin-Madison in 1942, Anna Halprin (American, born 1920 in Winnetka, IL) has been called one of the most important theatre artists of the twentieth century. In an attempt to move away from the constraints of modern dance and engage in more exploratory movement, Halprin founded the San Francisco Dancer's Workshop in 1955. In 1978 she went on to found the Tamalpa Institute, an organization dedicated to movement-based expressive arts healing and therapy, alongside her daughter Daria Halprin. Throughout her expansive career Halprin has received many awards, including a lifetime achievement in choreography from the American Dance Festival, and has been named one of "America's Irreplaceable Dance Treasures" by The Dance Heritage Coalition. Halprin has also been the subject of an eponymous exhibition at The Museum of Contemporary Art, Lyon, France in 2006, as well as the 2009 documentary, Breath Made Visible. Halprin lives and works in Kentfield, California.
Cover Image: Janine Antoni in collaboration with Anna Halprin, Paper Dance, 2013. Photographed by: Pak Han at the Halprin Dance Deck.