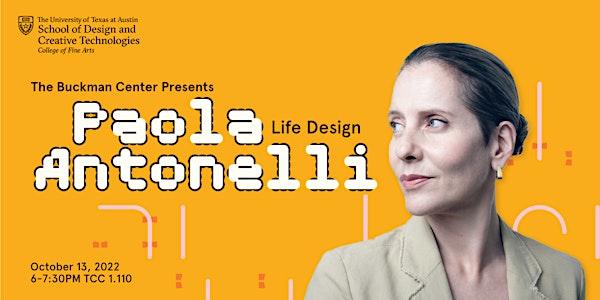 Paola Antonelli: Life Design
Join us for a public lecture with Paola Antonelli, Senior Curator at The Museum of Modern Art (MoMA).
When and where
Location
Joe C Thompson Conference Center 2405 Robert Dedman Drive Austin, TX 78712
About this event
Location: TCC 1.110
Life Design: A survey of the manifestations of design that are concerned with life—with living organisms, ecosystems, and even inanimate objects, when they are animated by their value and meaning in the cycles of life. She will discuss the design strategies that allow us to engage with nature in a constructive, elegant, and respectful fashion.
About Paola
Paola Antonelli is Senior Curator of Architecture & Design at The Museum of Modern Art, as well as MoMA's founding Director of Research & Development. Her goal is to promote design's understanding, until its positive influence on the world is universally acknowledged. Her work investigates design's impact on everyday experience, often including overlooked objects and practices, and combining design, architecture, art, science, and technology. Among her most recent exhibitions are the XXII Triennale di Milano Broken Nature, and MoMA's Material Ecology––on the work of architect Neri Oxman––and Never Alone, on video games and interactive design. The Instagram platform and book Design Emergency (@design.emergency), which she co-founded with design critic Alice Rawsthorn, is an ongoing investigation on design's power to envision a better future for all.
Connect with Paola:
Don't Miss Paola's New Book
Stay after the lecture for a chance to meet the author during a book signing of the recently launched Design Emergency: Building a Better Future. Authors Paola Antonelli and Alice Rawsthorn tell the stories of the remarkable designers, architects, engineers, artists, scientists, and activists, who are at the forefront of positive change worldwide.