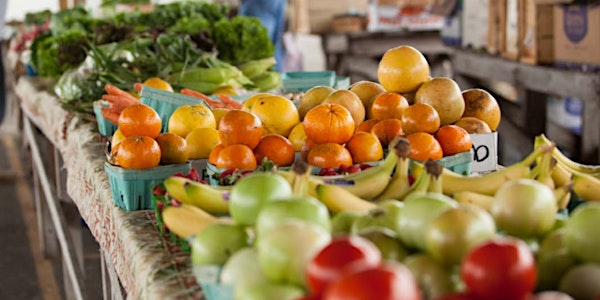 Panhandle Fruit & Vegetable Conference 2018
When and where
Location
Pensacola 11000 Conference Parkway Building 22 Pensacola, FL 32514
Refund Policy
Refunds up to 7 days before event
Description
2018 Panhandle Fruit & Vegetable Conference
Date
Pre-Conference Tour: 1 pm - 8 pm CST, February 19, 2018
Conference: 8 am - 5 pm CST, February 20, 2018
Location
UWF Conference Center
11000 Conference Parkway, Building 22
Pensacola, FL 32514
Activities
Pre-Conference Tour
Tradeshow
Educational Session Tracts
Marketing
North Florida Citrus
Fruit & Nut Production
Vegetable Production
Food Safety
Protected Agriculture
*Sponsors, please email mlollar@ufl.edu with the name of the person who will be attending the conference. Thank you!
---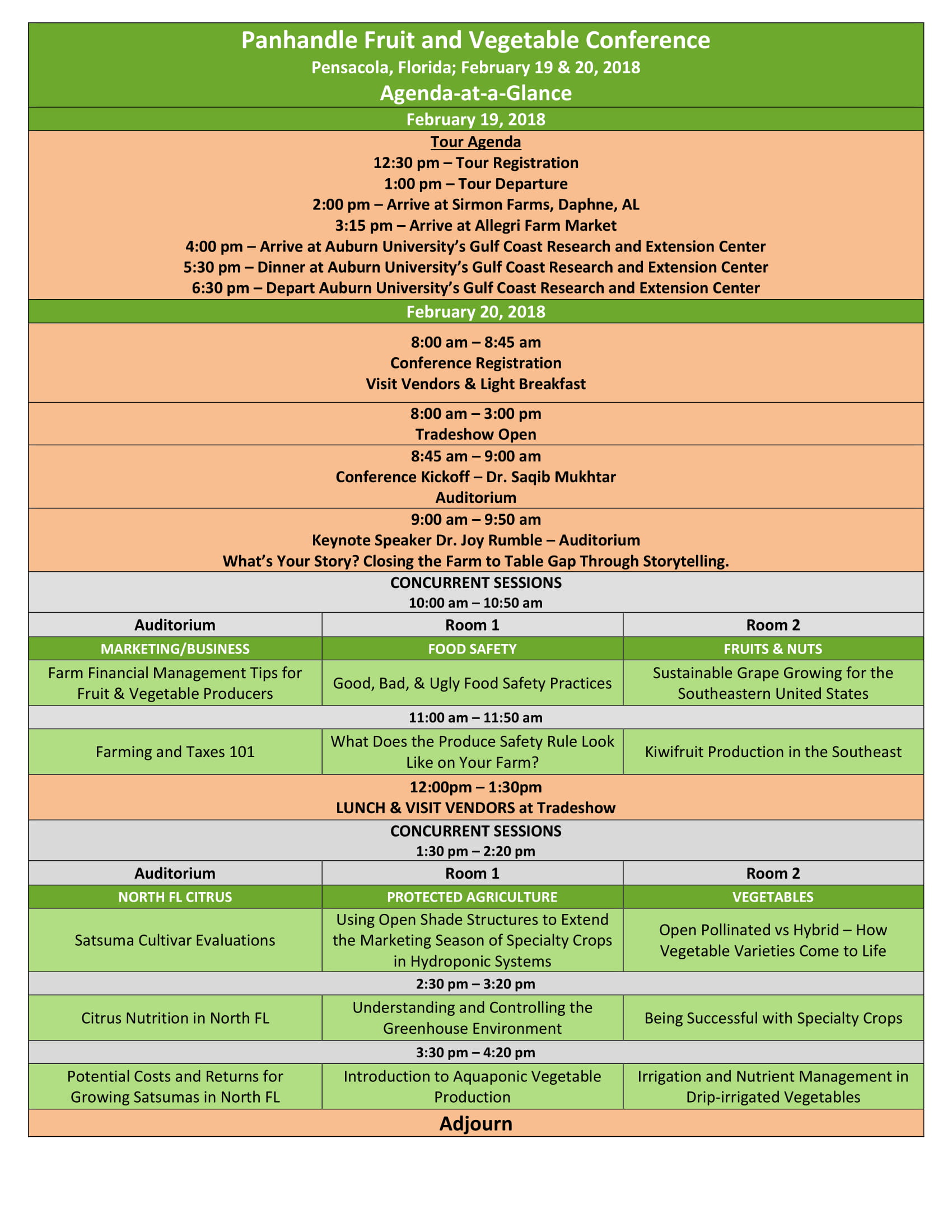 ---
Track Title: Marketing/Business
Session: Farm Financial Management Tips for Fruit & Vegetable Producers
Speaker: Kevin Burkett, Regional Extension Agent for Farm and Agribusiness Management - Alabama Cooperative Extension
Session: Farming and Taxes 101
Speaker: Cyndi Warren, CPA - Warren Averett CPAs and Advisors
Track Title: Food Safety
Session: Good, Bad, and Ugly Food Safety Practices
Speaker: Matt Lollar, Horticulture Agent - University of Florida/IFAS Extension – Jackson County
Session: What Does the Produce Safety Rule Look Like on Your Farm?
Speaker: Dr. Kristin Woods, Southeast Regional Extension Associate - Produce Safety Alliance
Track Title: Fruits and Nuts
Session: Sustainable Grape Growing for the Southeastern United States
Speaker: Mr. Jim Kamas, Associate Professor & Extension Horticulturist, Pomology & Viticulture / Texas PD Program Outreach Coordinator
Session: Kiwifruit Production in the Southeast
Speaker: Dr. James (Jay) Spiers, Associate Professor, Fruit Crops, Auburn University Department of Horticulture
Track Title: North Florida Citrus
Session: Satsuma Cultivar Selection
Speaker: Dr. James (Jay) Spiers, Associate Professor, Fruit Crops, Auburn University Department of Horticulture
Session: Citrus Nutrition in North Florida
Speaker: Dr. Tom Obreza, Senior Associate Dean for Extension and Associate Director of the Florida Cooperative Extension Service at the University of Florida, Institute of Food and Agricultural Sciences (IFAS)
Session: Potential Costs and Returns for Growing Satsumas in North FL
Speaker: Dr. Kevin Athearn, Regional Specialized Agent in Rural and Agribusiness Development for Florida's Northeast Extension District
Track Title: Protected Agriculture
Session: Using Open Shade Structures to Extend the Marketing Season of Specialty Crops in Hydroponic Systems
Speaker: Mr. Bob Hochmuth, Assistant Center Director and Regional Specialized Agent/NFREC – Suwanee Valley/University of Florida/IFAS Extension
Session: Understanding and Controlling the Greenhouse Environment
Speaker: Dr. Jeremy Pickens, Extension Specialist and Research Scientist, Alabama Cooperative Extension System
Session: Introduction to Aquaponic Vegetable Production
Speaker: Dr. Daniel Wells, Assistant Professor of Specialty Crops/Department of Horticulture/Auburn University
Track Title: Vegetables
Session: Open Pollinated vs Hybrid – How Vegetable Varieties Come to Life
Speaker: Dr. Danielle Treadwell, Associate Professor at University of Florida
Session: Being Successful with Specialty Crops
Speaker: Dr. Josh Freeman, Associate Professor at University of Florida
Session: Irrigation and Nutrient Management in Drip-irrigated Vegetables
Speaker: Mr. Bob Hochmuth, Assistant Center Director and Regional Specialized Agent/NFREC – Suwanee Valley/University of Florida/IFAS Extension
---
Thanks to our Gold Sponsors: