Description
THE NEXT SHOOTERS LOUNGE WILL HAVE THE MUSES WEARING ANYTHING BUT CLOTHES
plastic bags, post-it notes , caution tape, body paint, pillow cases, baby powder , body jewels, bed sheets, ribbons, towels, banana leaves, masking tape, etc...

Pangea's Shooters Lounge is back at Apache at Murphy Park with the extraordinary, unconventional theme of ABC:Anything But Clothes. NEW FACES IN THE PANGEA COMMUNITY are the MUSES who will collab with creative stylists to be adornend in anything that is NOT CLOTHING.

The theme is a raw, creative, exhibitionistic, outrageous type of session in which all can participate in the styling, shooting, adorning and posing. You can bring what you like to see folks dressed in and shoot what you like.

While there will be earthSistas and earthBrothas on hand to pose, feel free to come out and step in front of the camera if you are so inclined. MUAs, STYLISTS, DESIGNERS are all invited to come out and play. PHOTOGRAPHERS AND VIDEOGRAPHERS - we have some lights for the night but you know how we do. Feel free to bring your own for you own setups, taking advantage of the awesome urban backdrops of Apache at Murphy Park. For all of the Photographers, Videographers, MUAs and Stylists and Designers... she wants to be your canvas. Allow her afrosensuality to inspire you.
___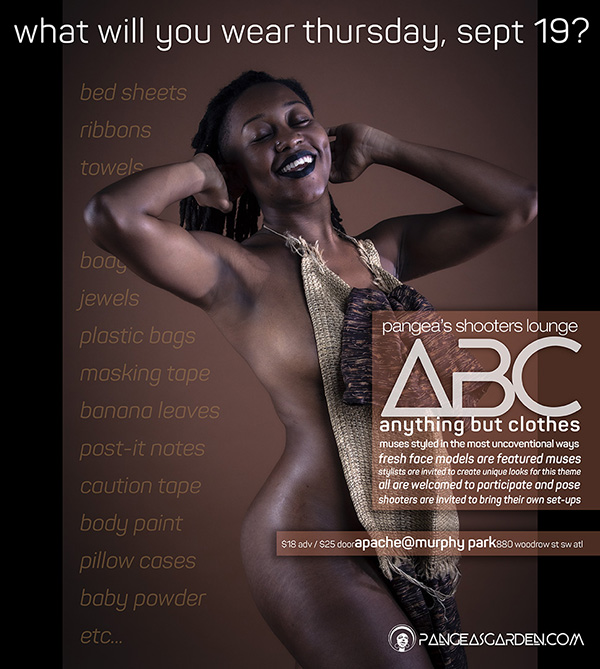 ___
OPEN PHOTOGRAPHY SESSION AND KICKBACK
The Shooters Lounge is a photographers' AfroSocial. It's the opportunity to chill, eat, drink, socialize and network in between shots. Pangea's Garden will provide some lighting setups but this is a hugh space with unique urban props and graffiti walls and plenty of opportunity to create your own unique images. Feel free to bring your own props and lights to add to the experience! It will be a dynamic event where your photography will reflect your unique perspective of this creative, collective collaboration. Photographers are HIGHLY encouraged to share their images with the earthSistas and the patrons who join in the experience. Photographers are also encouraged to explore the entire venue for opportunities to create fantastic images.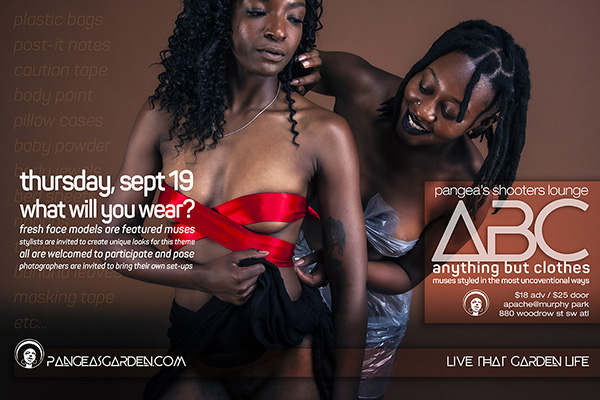 Doors - 7P | Events start at 7:30P
$18 for advanced tickets | $25 at the door
For advanced tickets go to: http://ow.ly/TP9g30nc8Ji
Let the afrosensual arouse, provoke and inspire you.
Join our online community at https://pangeasgarden.com/
FROM APACHE AT MURPHY PARK
*we currently do not have a reliable food option so feel free to bring a food into the venue. Picnic baskets, to-go food , or similar are allowed. We don't provide napkins, utensils so bring your own and please clean up after yourself."
*Cash or CashApp only, day of entry, at the door. The bar takes VISA/MC/American Express/DISCOVER/Cash.
PANGEAS SHOOTERS LOUNGE
Pangeas Shooters Lounge is the social shooting event that allows Pangea's photography community to network, cut loose and create creative and quality images. We push the envelope, break the mold and redefine what others think of beauty, art, glamour. Join us and you are in for an opportunity of sensually artistic interactive experiences designed to provoke, inspire and arouse you.

Join our online community at https://pangeasgarden.com/
Follow us on IG: @pangeasgarden

____________________________________