Description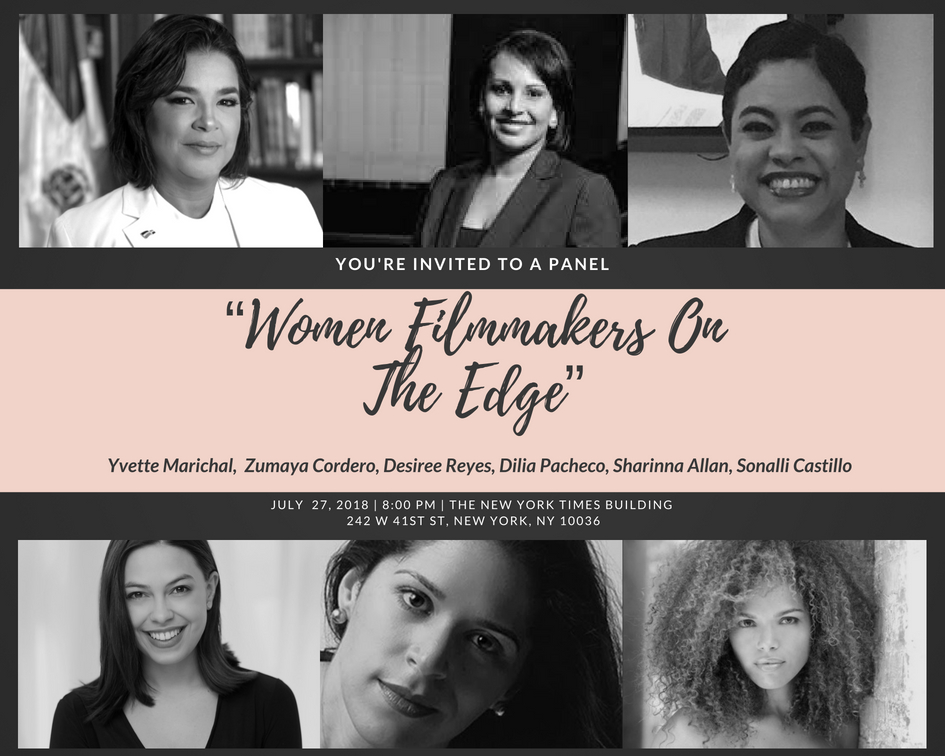 PANEL: AT THE NEW YORK TIMES BUILDING
July 26 at 7:30pm
"Women Filmmakers On The Edge" with Yvette Marichal, Zumaya Cordero, Laura Amelia Guzman, Dilia Pacheco, Sharinna Allan, Sonalli Castillo
PANELISTS / PANELISTAS:
Yvette Marichal
Zumanya Cordero
Laura Amelia Guzman
Dilia Pichardo
Sonalii Castillo
In this panel, guests will discuss what it means to be a female filmmaker in the Dominican film industry, and the different issues, strategies, and successes they have experienced. Topics will include the particular challenges often faced by women in the industry and how to overcome them; approaches for dealing with important societal issues via cinema; how the availability of newer technologies may impact their cinema; unique ways developed by Dominican women filmmakers to communicate their ideas cinematically and how these can be further developed; and any problems involved in being a female filmmaker in a largely male dominated industry including working with all male production crews.
En este panel las invitadas hablan sobre lo que significa ser una cineasta en la industria cinematográfica dominicana, y sobre los diferentes temas, estrategias y éxitos que han vivido. Los temas incluirán los desafíos particulares que a menudo enfrentan las mujeres en la industria y cómo superarlos; los enfoques para tratar cuestiones sociales importantes a través del cine y cómo la disponibilidad de tecnologías más nuevas puede afectar su cine. Otros temas son las formas únicas desarrolladas por mujeres cineastas dominicanas para comunicar sus ideas cinematográficamente y cómo éstas pueden alcanzar otros lugares en la industria. Un panel que habla de los problemas relacionados con ser una cineasta en una industria predominantemente masculina y lo que implica trabajar en cuadrillas de producción casi en su totalidad masculinas.