Description
You've submitted your resume and cover letter. Now, you've scored an interview at your dream job. Do you know what do before your interview? During? What about after?
Join San Diego Emerging Museum Professionals as we share tips and answer your questions about what you should be doing pre-, during, and post- interview.
Moderator:
Kristen Mihalko, Senior Manager, Programs and Special Events, Balboa Park Cultural Partnership / President, San Diego Emerging Museum Professionals
Panelists:
Tanja Schroeder, Senior Manager, Volunteer Programs and Training, Fleet Science Center
Molly Terbovich-Ridenhour, President/CEO, San Diego Civic Youth Ballet
Katrice Lee, Senior Director of Development and Grant, San Diego Natural History Museum
John Digesare, Senior Registrar, The San Diego Museum of Art
Kasey Mattson, Human Resources Associate, USS Midway Museum
Cost:
San Diego EMP members, please consider a donation up to $10 for this event.
Free food and beverage will be provided by USD Career Development Center.
Parking:
The nearest parking structure to the event is the Mission Parking Structure. To access this structure, please enter campus through the east (main) entrance at the top of the hill. You will pass the welcome kiosk at the entrance of the school and look for the entrance to the Mission Parking Structure (pass the stop sign, first right into the driveway). There will be a pay station at the top of the structure. Park in any of the white lined spaces and then proceed to the kiosk. Parking is covered through a pay-by-plate model, so you will need your license plate number in order to purchase a pass.

Please make payment at the kiosk ($1.50/hour until 7:00 pm) and display on your dashboard.
From the parking lot, please proceed to the event location (Serra Hall) by heading west and following the map (below). The Humanities Center will be the first door on your left once you enter the building. USD will have a student in a bright blue "CDev" t-shirt that can help with navigation at the mission parking struction should you need it.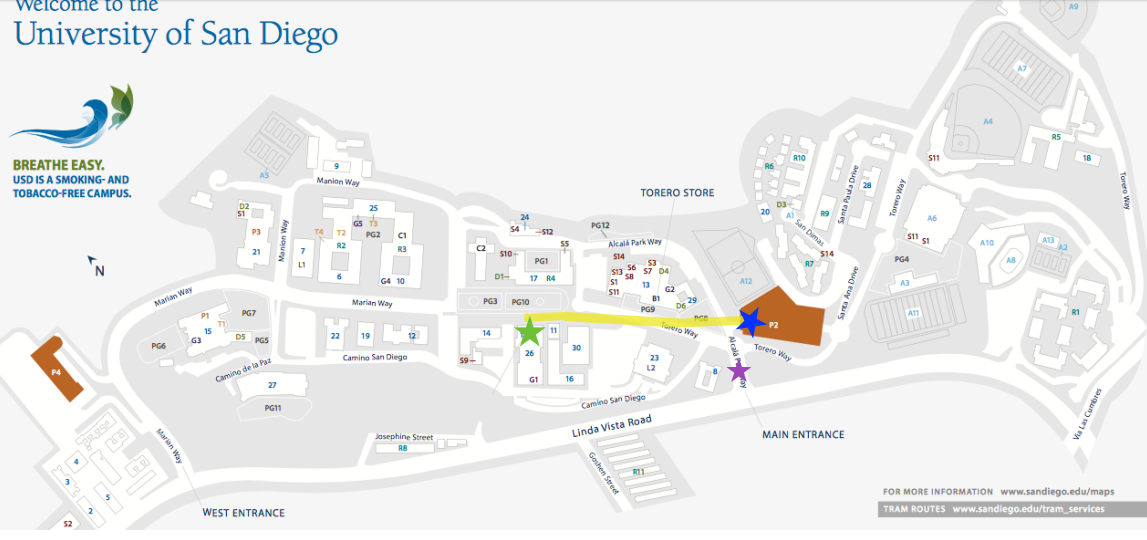 In partnership with University of San Diego's Career Development Center.