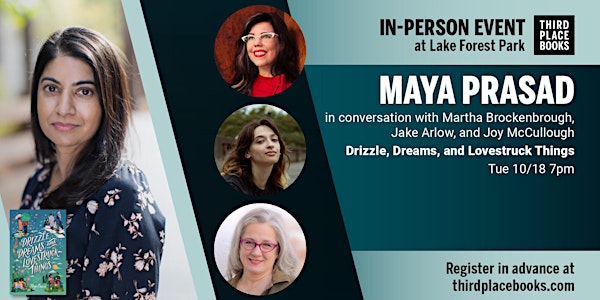 Panel discussion with Maya Prasad—'Drizzle, Dreams, and Lovestruck Things'
"The ultimate love letter to the Pacific Northwest. . .A joyous celebration of family and first love."—Rachel Lynn Solomon
When and where
Location
Third Place Books 17171 Bothell Way Northeast #A101 Lake Forest Park, WA 98155
Refund Policy
Contact the organizer to request a refund.
About this event
Third Place Books welcomes local author Maya Prasad to our Lake Forest Park store! Prasad will be presenting the launch of her debut YA novel Drizzle, Dreams, and Lovestruck Things, in a panel discussion with local authors Martha Brockenbrough, Jake Maia Arlow, and Joy McCullough. This event is free and open to the public. Registration is required in advance.
Copies of Drizzle, Dreams, and Lovestruck Things will be available for purchase at the store. This event will include a public signing and time for audience Q&A. Sustain our author series by purchasing a copy of the featured book!
Click here for more about our COVID-19 policies for in-person events.
Having trouble registering? See Eventbrite's troubleshooting FAQ here.
Tickets:
This event is free to attend. Registration is required in advance.
About Drizzle, Dreams, and Lovestruck Things. . .
Four sisters, four seasons, four flavors of romance.
The Singh sisters grew up helping their father navigate the bustle of the Songbird Inn. Nestled on dreamy and drizzly Orcas Island in the Pacific Northwest, the inn's always been warm and cozy and filled with interesting guests—the perfect home. But things are about to heat up now that the Songbird has been named the Most Romantic Inn in America.
Nidhi has everything planned out—until a storm brings a wayward tree crashing into her life one autumn . . . and along with it, an intriguing construction worker and a yearning for her motherland. Suddenly, she's questioning everything she thought she wanted.
Avani can't sit still. If she does, her grief for Pop, their dad's late husband, will overwhelm her. So she keeps moving as much as she can, planning an elaborate Winter Ball in Pop's memory. Until a blizzard traps her in a barn with the boy she accidentally stood up and has been actively avoiding ever since.
Sirisha loves seeing the world through her camera, but her shyness prevents her from stepping out from behind the lens. Talking to girls is such a struggle! When a pretty actress comes to the Songbird with her theater troupe, spring has sprung for Sirisha—if only she can find the words.
Rani is a hopeless romantic through and through. After gently nudging her sisters to open their hearts, she is convinced it's finally her turn to find love. When two potential suitors float in on a summer breeze, Rani is swept up in grandeur to match her wildest Bollywood dreams. But which boy is the one she's meant to be with?
Ultimately, the magic of the Songbird Inn leads the tight-knit Singh sisters to new passions and breathtaking kisses—and to unearth the truest versions of themselves.
Perfect for fans of Jenny Han's To All the Boys I've Loved Before, this sparkling YA rom-com celebrates sisterhood, family, and the love all around us.
Maya Prasad is a South Asian American author, a Caltech graduate, and a former software engineer. She currently resides in the Pacific Northwest, where she enjoys hiking, canoeing, and raising her budding bookworm kiddo. Drizzle, Dreams, and Lovestruck Things is her debut YA novel, to be published by Disney-Hyperion in October 2022. Visit her website www.mayaprasad.com or find her on Instagram and Twitter @msmayaprasad.
Martha Brockenbrough graduated from Stanford University, where she studied English and Classics and was the editor in chief of the Stanford Daily. She has worked as a journalist, a teacher, the editor of MSN.com, a question writer for Cranium and Trivial Pursuit, and now teaches at Vermont College of Fine Arts, where she serves as co-chair of the Writing for Children Young Adults department. A lifelong Seattle resident, Martha has written two books for adults and twenty-one books for young readers.
Jake Maia Arlow is a Stonewall Honor author, podcast producer, and bagel connoisseur. She studied evolutionary biology and creative writing (not as different as you might think) at Barnard College. She lives with her girlfriend and their loud cat in the Pacific Northwest. Her first novel, Almost Flying, was a Stonewall Honor book and Barnes & Noble Children's Prize Shortlist selection, and her debut YA novel, How to Excavate a Heart, releases on November 1, 2022. (Photo credit: Torrin Nelson)
Joy McCullough's debut young adult novel Blood Water Paint (Penguin) won the Washington State and Pacific Northwest books awards, as well as honors such as the National Book Award longlist, finalist for the ALA Morris Award, a Publishers Weekly Flying Start and four starred reviews. Her debut middle grade novel, A Field Guide to Getting Lost (Simon & Schuster) was a Junior Library Guild Selection. She writes books and plays from her home in the Seattle area, where she lives with her husband and two children. She studied theater at Northwestern University, fell in love with her husband atop a Guatemalan volcano, and now spends her days surrounded by books and kids and chocolate.
About Third Place Books
Founded in 1998 in Lake Forest Park, Washington, Third Place Books is dedicated to the creation of a community around books and the ideas inside them. With locations in Lake Forest Park and Seattle's Ravenna and Seward Park neighborhoods, Third Place Books is proud to serve the entire Seattle metro area. Learn more about their event series at thirdplacebooks.com/events.