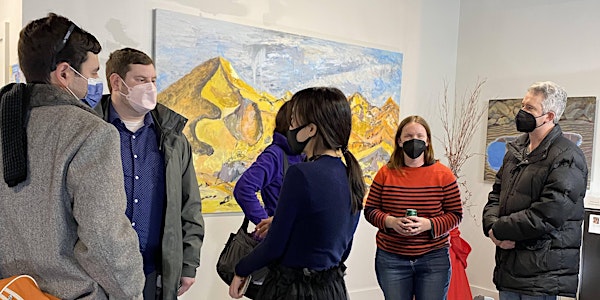 Panel Discussion & Wine Reception: Climate Equity: A Better Future For All
UVA is hosting a panel discussion led by the curator in conversation with several artists. There will also be a lively wine reception.
By Unbound Visual Arts, Inc.
Date and time
Friday, March 31 · 7 - 9pm EDT
Location
UVA's Art Exhibit Gallery at the Arthaus 43 North Beacon St. Allston, MA 02134
About this event
For the finale of "Climate Equity: A Better Future For All" UVA is hosting a panel discussion and a free ticketed wine reception with the curator in conversation with 3-4 artists. The exhibiit is curated by Jingyi (Tina) Wang. Exhibit Assistants - Jessica Hernandez, Mila Roemer, Natalie Schweikhart, and Shuxian Zhang.
Free raffle for all registrants. You may win a $225 gift card to the very popular Courtyard Tea Room at Boston Public Library. The winner will be drawn on 3/31.
The exhibit includes art from 16 artists: Nancer Ballard, Mary Barton-Lech, Gwen Cory, Nancy Crasco, Samantha Fein, Elizabeth Lapides, Pauline Lim, Elisandra Lopes, Chelsea Martel-White, Michael McLaughlin, Alex Miklowski, Shelby Myerhoff, Brenda Gael McSweeney, Matthew Okazaki, Katha Seidman, Diana Stelin
Curator's Statement:
These days, most of us probably have already heard the term "climate change" a million times — we are all well aware of what it means and what things should be done to save the environment — but what about "climate equity"?
Environmental equity means both protection from environmental hazards as well as access to environmental benefits for all, regardless of income, race, and other characteristics. Climate change has affected the poorest population around the world most drastically, creating "climate refugees". According to Mercy Corps "nearly 70% of all new displacements in the first six months of last year were the result of weather-related disasters, with a total of 9.8 million people around the world driven from their homes by shocks like drought, hurricanes, and landslides — around 50,000 people every day", and "if sea levels continue to rise without intervention, many of those living near the ocean — about 40 percent of the world's population — will be at risk of losing their homes".
The good news is that many people are actively seeking a solution. For instance, the Equity Fund is investing in the leadership of Black, Latinx, AAPI, and indigenous communities bearing the brunt of climate change. By engaging voters in these communities, they are getting climate and clean energy policy solutions that reflect communities' priorities and advancing racial, economic, and environmental justice.
Here at UVA, we also want to do our parts. In "Climate Equity: A Better Future For All", we aim to address the long-ignored issue of climate equity, and let more people know that not everyone is provided the resources to "go green". We want our audience to know that the environmental crisis is not only about sustainability but also resources and power. For all artists participating, we want your works to be the voice of the unheard and tell the story that has been lingering outside the public's sight.
About the organizer
Unbound Visual Arts (UVA), was organized, formed and incorporated in 2012.  It's a 501(c)(3) non-profit educational charity based in Allston-Brighton and is governed by a 17-person Board of Directors and Council of Advisors. 
We organize independently curated art exhibitions and accompanying programming that encourage learning, engagement, and change. We also organize classes, workshops, lectures, and other learning programs, and have a growing collection of over 100 works of 21st century art. In 2021, we launched our Exhibit Gallery at the Arthaus located in Allston, MA. Dedicated to featuring the work of local artists, it is Allston's first community art gallery.
UVA is committed to supporting artists in the Greater Boston area and beyond. Our exhibitions reflect diverse perspectives and we are dedicated to bringing members of historically marginalized groups to the forefront of our work. We regularly create opportunities for artists who have experienced homelessness to sell and display their work, addressing the gap between the general public and the homeless community. 
Moreover, we make our offerings accessible to underserved communities by providing free memberships to individuals who are low-income, unemployed, and/or homeless. Our virtual offerings remain accessible to the general public for free on our website and virtual exhibit platforms. 
We believe that art is an essential service and have organized 75+ exhibitions, in person and virtually. UVA's exhibitions are characterized by their engagement with crucial cultural and social topics, including race and gender equity, environmental sustainability, and wellness. Exhibitions provide artists with opportunities to showcase and sell their art, and provide the local community with opportunities to enjoy works of visual art while engaging with contemporary social topics.
Our mission is to support a diverse community of artists based in the Greater Boston area and beyond.