Experts panel: Intersectional approaches to meet energy demand, ensure food security and efficient use of water resources
About this event
The 17 UN Sustainable Development Goals (SDGs) are inextricably linked, and as such require effective and efficient solutions. Solutions that promote integration across different sectors while at the same time reducing the risk of sector specifications undermining each other. Today's complex policy challenges, the abundance of data and information, scientific controversies and post-fact politics make it essential to shift to a nexus approach that promotes integration across different sectors and challenges existing policies, structures and procedures at the global, regional and sub-regional levels.
Energy Innovation Network Team will announce a series of webinar talks addressing challenges in all sub-regions in Africa in the upcoming months.
On June 4th, join us for the first interactive session of our Water-Energy-Food Nexus in Africa webinar series with three regional experts to discuss how we can promote the integration of goals across energy, food, and water resources sectors and reduce the risk of sector-specific actions undermining each other.
Prior to the webinar, feel free to join our Slack channel to start networking and stay on top of the African market: https://bit.ly/3uiaMUn
Topics:
Data behind the interlinkages between water, energy and food
Agriculture and African climate vulnerability
Impact on the African economy
Integrated and coordinated action
Appropriateness of policies and "appropriate" technologies
Moderator & Speakers :
Leandre Berwa (Moderator) - Energy Modeler, Second Life Storage
Leandre is currently an energy modeler at Second Life Storage. He is working on battery cell repurposing and conducting research on electric vehicle fleet sizing and operation optimization.
Leandre holds a Master's Degree in Electrical and Computer Engineering from Carnegie Mellon University Africa.
Dr. Rebekah Shirley - Director of Research, Data & Innovation, World Resources Institute - Africa
Dr. Rebekah Shirley is the Director of Research, Data & Innovation at the World Resources Institute, Africa, and former Chief of Research at Power for All. Rebekah earned her Ph.D. in Energy Resources from the University of California, Berkeley, and leads applied research on power systems and clean energy integration, working across Southeast Asia, Africa, and the Caribbean. Hailing from the West Indies, Rebekah now lives in Nairobi, Kenya.
More info about Dr. Rebekah Shirley:
Tony Tiyou - Founder and CEO, Renewables in Africa (RiA)
Tony Tiyou is the Founder and CEO of Renewables in Africa, a Clean Energy engineering company and media platform which mission is to Bring (Back) Power to Africa. Tony previously worked for a decade as Development Engineer, Project Manager, Lead Consultant, and Business Development Manager in several companies in the Automotive and Renewables Industries.
Through RiA, Tony provides project origination and development, together with market insights to projects in different countries in Africa among which Kenya, Ghana, Nigeria, Cameroon, Mozambique, Botswana. Tony is a regular technical expert in the BBC Africa show "Questions d'Argent" and has also featured in US broadcasting Stations VOA and EmeraldPlanet TV.
Tony is the author of 'The Wind Industry Outlook in Africa', released in November 2017, and has won multiple awards including African Leadership Impact Investing and being nominated as one of the 50 Top Influential African & Afro-Caribbean Leaders in the UK 2018.
Check out Tony's Solar Entrepreneurship Workshop.
Violet Matiru - Executive Director, Millenium Community Development Initiatives (MCDI)
Ms. Violet Matiru has more than 20 years of experience in designing, monitoring and evaluating complex national, regional and global natural resource management programmes of development partners including the EU, Danida, Sida, GEF, UNEP, UNDP, IFAD, CIDA and Finland. Violet also has extensive hands-on experience implementing community conservation and livelihood improvement programs through the Millennium Community Development Initiatives, a local organization she co-founded in 2005.
MCDI is focusing on communities living along the Athi River, the 2nd longest river in Kenya at approx. 400kms to implement water and soil conservation activities, construct water and sanitation infrastructure, and install domestic and commercial bio-gas digesters and solar lighting systems. MCDI also train communities on organic farming and on natural resource policies and laws, while assisting them establish farmers markets and ecotourism activities to generate income. She has a BSc. Zoology from Baraton University, Kenya and an MBA from Colorado State University.
More info about MCDI
Special thanks to our media partners in Africa : World Resource Institute, Africa, Renewables in Africa and Sustainable Environment Food and Agriculture Initiative, Nigeria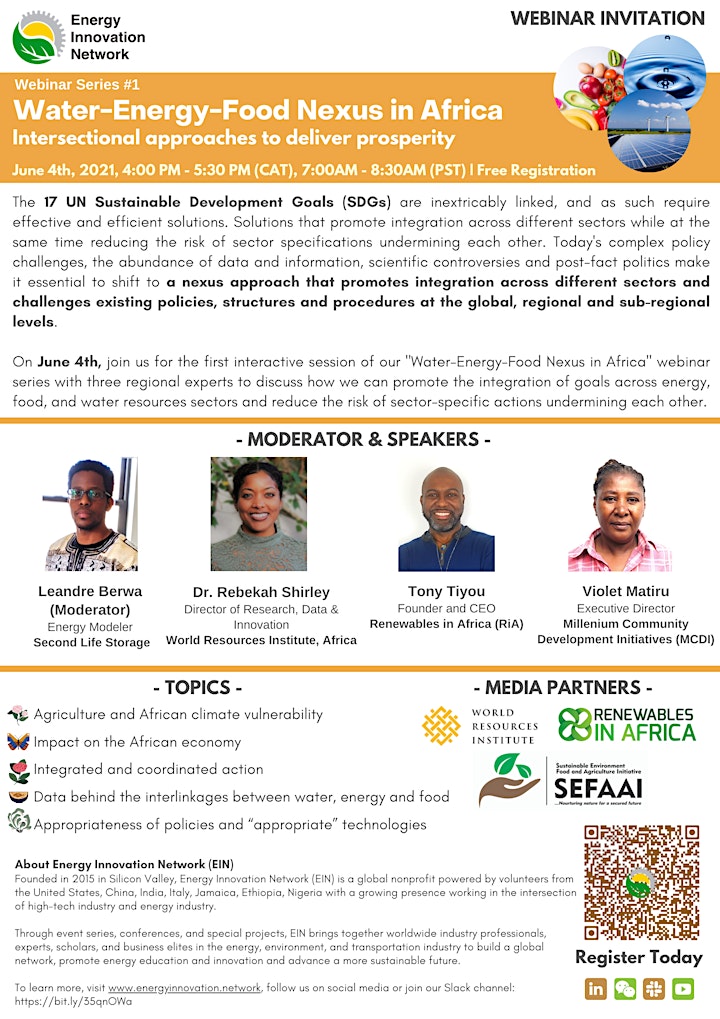 Organizer of Panel Discussion | Water-Energy-Food Nexus in Africa Series #1
Founded in 2015 in Silicon Valley, Energy Innovation Network ("EIN") is a global nonprofit powered by volunteers from the United States, Asian Pacific (China, India), and Africa with a growing presence working in the intersection of high-tech industry and the energy industry.
Through event series, conferences, and special projects, EIN brings together worldwide industry professionals, experts, scholars, and business elites in the energy, environment, and transportation industry to build a global network, promote energy education and innovation, and advance a more sustainable future. Learn more at https://www.energyinnovation.network/ or follow us on Linkedin, Wechat and Youtube.