Description
STIGMA KILLS - The Harmful Impact of Stereotypes
Panel Discussion on Saturday Dec 19 1-3pm

Gay City Calamus Auditorium - 517 E Pike St, Seattle, WA 98122

Not fitting in with mainstream society can have severe repercussions, especially where sexual orientation, mental health, and drug use are concerned. Stigma is a form of societal judgement on a person's situation, actions, or
qualities, which can extend beyond individual circumstance to impact entire communities.
Stigma is a form of stereotyping that can negatively effect the way people are treated in the world. The harms of stigma can put people at severe disadvantages when trying to access health care, housing, employment, and fair judicial treatment.
This panel will feature...
Smitty Buckler - HIV/STI Tester at Gay City
Emi Koyama - Social justice activist and writer
Maggie McNeill - Sex worker, author, and public speaker
Edric Figueroa - NW Network Community Advocate
Moderator by Caroline McLoud
This event is hosted by the Sex Workers Outreach Project of Seattle, and is part of a series of events honoring December 17th, the International Day to End Violence Against Sex Workers.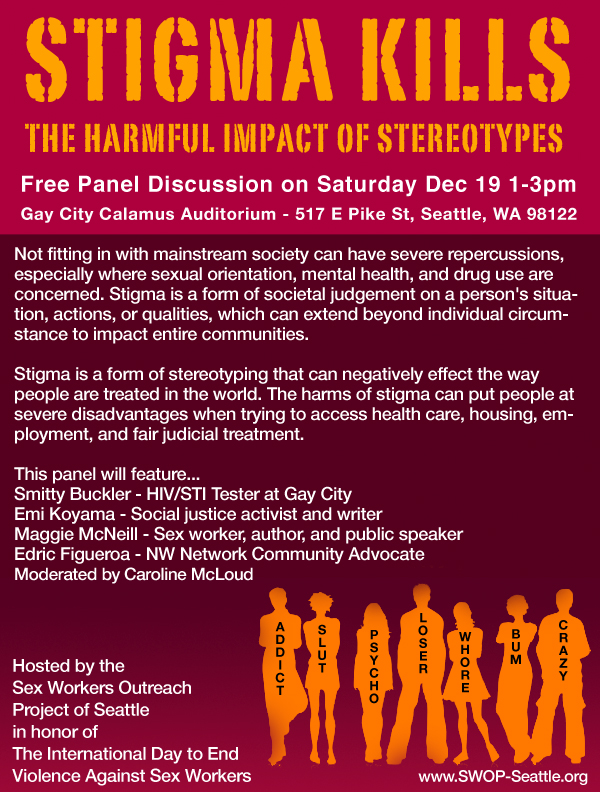 Organizer of Panel Discussion: Stigma Kills
 SWOP-Seattle, is the local Seattle chapter of SWOP-USA, a national organization dedicated to sex worker rights advocacy. SWOP-Seattle is a non-profit which is run by volunteers who are current or former sex workers, and their allies.