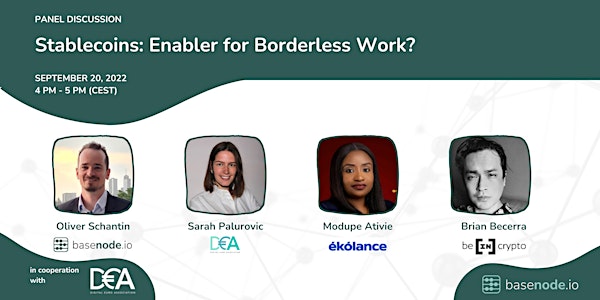 Panel Discussion: Stablecoins: Enabler for Borderless Work?
We will elaborate on the role of stablecoins to foster financial inclusion of workers in emerging markets and global salary payments.
About this event
With the development of blockchain technology thirteen years ago, payments without intermediaries became possible. While Bitcoin was the only crypto asset back then, today thousands of tokens have emerged. While most tokens are very volatile, e.g. Bitcoin facing price changes of over 30% within twenty-four hours, stablecoins are mostly pegged to the US-Dollar, promising the benefits of fast and easy payments combined with the stability of the US-Dollar. Can stablecoins solve the problems of today's cross-border payments, such that workers from around the globe can get paid by employers easily, no matter where they are? Will we see an inclusion of workers, who have formerly been incapable of participating in the global labor markets, getting paid in stablecoins?
We will discuss the various aspects of stablecoin usage including its economic and societal effects on the global labor market.
We will elaborate on questions such as:
Why choose crypto salaries?
Are borderless crypto payments possible nowadays?
What challenges are we facing today with cross-border work relations?
Offer stablecoins an opportunity to overcome inflation?
How can stablecoins change the global labor market of the future?
You will have the opportunity to ask questions directly to the panelists.
Our Panelists
Our panelists will be:
Location and Date
Location: Online. Details for the live broadcast will be sent to you on the day of the event (no prior software installation is required).
Date: September 20, 2022
Time: 4 PM - 5 PM (CEST)
Language: English
Agenda
16:00 - Welcome and introductory words (Oliver Schantin, basenode.io)
16:05 - Introduction of the speakers
16:15 - Start of the panel discussion: Stablecoins - Enabler for Borderless Work?
17:00 - End of online panel
Registration For The Event
Required via Eventbrite; you will receive the URL for the live stream in advance. Registration closes half an hour before the start of the event.
Who should participate?
Employees and decision-makers from the financial sector interested in blockchain technology
Employers interested in hiring people from another country and paying salaries in crypto assets
Employees interested in receiving salaries in crypto assets
Consultants with a focus on solutions for financial inclusion and digitization
Journalists from the economics and technology department
Other groups of people with an interest in crypto assets, technology, and digitization
Founders and employees of startups with digital business models
Contact
basenode.io
Email: info@basenode.io
Web: www.basenode.io
About basenode.io
At basenode.io, our mission is to eliminate the gap between traditional accounting and blockchain-based accounting. Basenode.io is the easy-to-use accounting solution for digital assets that offers seamless crypto invoicing and portfolio tracking. We provide a self-explanatory user interface with a clean and modern look, that naturally supports your workflow. We support the most popular networks like Bitcoin, Bitcoin Lightning, Ethereum, Binance Smart Chain, Polygon, Ronin Chain and more. You can reach out to us via Twitter, LinkedIn or Instagram.
About the DEA
The Digital Euro Association (DEA) is a think tank specializing in central bank digital currencies (CBDCs), stablecoins, crypto assets, and other forms of digital money based in Frankfurt, Germany. In particular, it focuses on the digital euro. It is the DEA's mission to contribute to the public and political discourse through research, education, and by providing a platform and community for policy-makers, technologists, and economists to discuss digital money-related topics. The DEA is committed to independence and excellence, aiming to set the agenda and to shape policy by encouraging new ideas and forward-thinking in the field of digital money. You can reach out to us via Twitter, LinkedIn or Medium.
Privacy policy: By registering for this event, you agree to receive emails from basenode.io about news and events in the areas of blockchain, crypto accounting, portfolio tracking, freelancing and company updates.