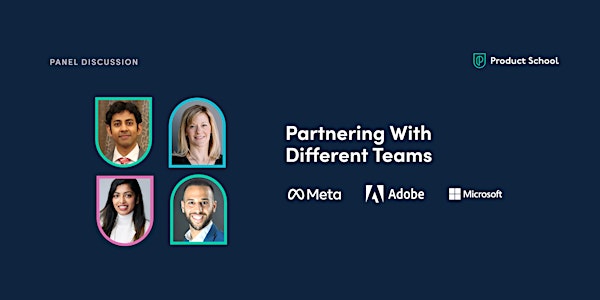 Panel Discussion: Partnering With Different Teams
Product School hosts free daily Product Management events with top professionals who are there to help you level up your career!
About this event
DISCLAIMER: Register here to get notified with the instructions to join this event.
When brilliant product minds come together, great things happen. We're excited to bring to you a special series of events with top-notch product professionals to share their experiences and thoughts on some of the most definitive and imperative topics in the tech world today. Join us and get ready for a lively discussion that will open your mind about the world of Product Management.
In this panel, we will be discussing partnering with different teams with Harivardan Jayaraman Group PM at Meta, Heidi Gibson Sr Director of Product at Adobe, Seema Bansal Product Manager at Microsoft, and Shlomi Zrahia, Principal Product Manager Lead at Microsoft.
Meet the Speakers: Harivardan Jayaraman, Heidi Gibson, Seema Bansal, and Shlomi Zrahia

Harivardan is the Head of Product for Facebook Notifications. Prior to this, he was the Director of Product at Zynga focusing on Growth and Acquisition. He has over a decade of experience building consumer and financial products.

Heidi has over 20 years of Product Management experience, with most of that focused on consumer/small business software and SaaS. She is currently the Senior Director, Product-Led Growth at Adobe.

Seema is a Microsoft Product Manager with over six years of international PM experience. She is currently building for Microsoft Teams to help emergent tech have a smooth hybrid work experience.

Shlomi is an experienced product leader with a strong background in the computer and network security industry. Currently, he is working as a Principal Product Manager Lead at Microsoft.
Get the FREE Product Book and check out our curated list of free Product Management resources here

Product School is the global leader in Product Management training with a community of over one million product professionals. Our certifications are the most industry-recognized credentials by employers hiring product managers. All of our instructors are senior-level Product Managers working at top Silicon Valley companies including Google, Facebook, Netflix, Airbnb, PayPal, Uber, and Amazon.
Disclaimer: by registering for this event I agree to receive email communications from Product School and all sponsor brands.