Join Brookline Booksmith and the five stellar nominees for this year's Simon & Schuster Mary Higgins Clark Award!
About this event
Outstanding mystery authors Hank Phillippi Ryan, Paige Shelton, Mariah Fredericks, Elsa Hart and Lori Rader-Day join us for a panel discussion!
How to Register
Register on this page to receive a Zoom link
Register free, pay what you like, or buy the book to enter the event
If you don't receive a confirmation email after registering, contact us right away
Get Books
Between now and March 20th, shop exclusively at brooklinebooksmith.com and use the code MHCBrookline at checkout to receive 10% off the nominated titles! Click the titles in the descriptions below to buy.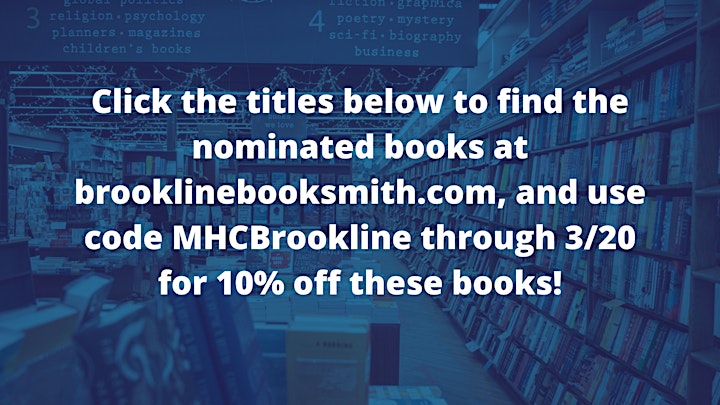 The nominees for the Simon & Schuster Mary Higgins Clark Award
An affluent daughter of privilege. A glamorous manipulative wannabe. A determined reporter, in too deep. A grieving widow who must choose her new reality. Who will be the first to lie? And when the stakes are life and death, do a few lies really matter?
Hank Phillippi Ryan is the USA Today bestselling author of 12 thrillers, winning five Agathas and the Mary Higgins Clark Award, and 37 EMMYs for investigative reporting. The Murder List (2019) won the Anthony Award for Best Novel, and is an Agatha, Macavity and Mary Higgins Clark Award nominee. Her newest psychological standalone is The First to Lie, which garnered a Publishers Weekly starred review and is nominated for the coveted Mary Higgins Clark Award.
Beth Rivers is beginning to find home in Alaska--but everything in Benedict changes after a mudslide exposes a world that had been hidden for years. Two mud-covered, silent girls appear, and a secret trapper's house is found in the woods. The biggest surprise, though, is a dead and frozen woman's body in the trapper's shed. Can Beth solve this mystery before the cold wind sweeping over the town and the townspeople descends for good?
Paige Shelton was born in Missouri but moved around a lot as a kid. One year, she even lived in a haunted house. She and her family moved to Arizona six years ago. She has come to love the desert heat as well as all the plants and creatures in it that want to kill you for your water.
Jane Prescott is taking a break from her duties as lady's maid for a week, and plans to begin it with attending the hottest and most scandalous show in town: the opening of an art exhibition, showcasing the cubists, that is shocking New York City. But her repose is interrupted when a woman is found murdered outside Jane's childhood home—a refuge for women run by her uncle.
Mariah Fredericks was born and raised in New York City. She graduated from Vassar College with a degree in history. She enjoys reading and writing about dead people and how they got that way. She is the author of the Jane Prescott mystery series.
London, 1703. In a time when the old approaches to science coexist with the new, one elite community attempts to understand the world by collecting its wonders. Sir Barnaby Mayne, the most formidable of these collectors, has devoted his life to filling his cabinets. While the curious-minded vie for invitations to study the rare stones, bones, books, and artifacts he has amassed, some visitors come with a darker purpose.
The daughter of a journalist, Elsa Hart was born in Rome and spent much of her childhood abroad, attending international schools in Moscow and Prague. She is drawn to stories about travelers throughout history, and likes to put her characters in places that are unfamiliar to them.
From the author of the Edgar Award-nominated Under a Dark Sky comes an unforgettable, chilling novel about a young woman who recognizes the man who kidnapped her as a child, setting off a search for justice and into danger.
Lori Rader-Day is the Edgar Award-nominated and Anthony and Mary Higgins Clark Award-winning author of The Lucky One, Under a Dark Sky, The Day I Died, Little Pretty Things, and The Black Hour. She co-chairs Murder and Mayhem in Chicago and is the immediate past-president of Sisters in Crime.
About the Edgar Awards
The Edgar Awards, or "Edgars," as they are commonly known, are named after MWA's patron saint Edgar Allan Poe and are presented to authors of distinguished work in various categories. This year marks the 75th annual Edgar Awards and they will be celebrated in a virtual ceremony on April 29. MWA is the premier organization for mystery writers, professionals allied to the crime-writing field, aspiring crime writers, and those who are devoted to the genre. The organization encompasses some 3,000 members including authors of fiction and non-fiction books, screen and television writers, as well as publishers, editors, and literary agents. For more information, visit www.mysterywriters.org.
About Brookline Booksmith
We are one of New England's premier independent bookstores, family-owned and locally run since 1961. We offer an extensive selection of new, used, and bargain books; unique, beautiful gifts; award-winning events series; and specialty foods. Every day, we strive to foster community through the written word, represent a diverse range of voices and histories, and inspire conversations that enrich our lives.
Organizer of Panel Discussion: Mary Higgins Clark Award Nominees 2021