Divershefy Club Panel Discussion on the topic "Intentional Networking and Influencing"
About this event
Join us for a Panel Discussion with Kerrie MacPherson, Madhu Ranganathan, Kiranmai Pendyala on the topic "Intentional Networking and Influencing".
This event is organized by Divershefy Club, hosted by Sylvia Smetana and moderated by Vanitha Datla.
To know more about Divershefy, please visit our website
www.divershefy.com
www.divershefy.club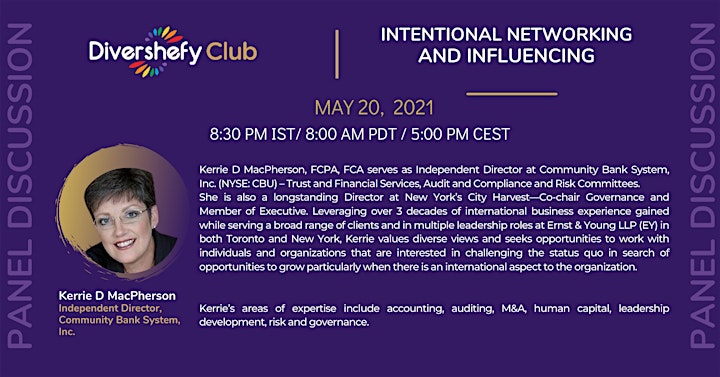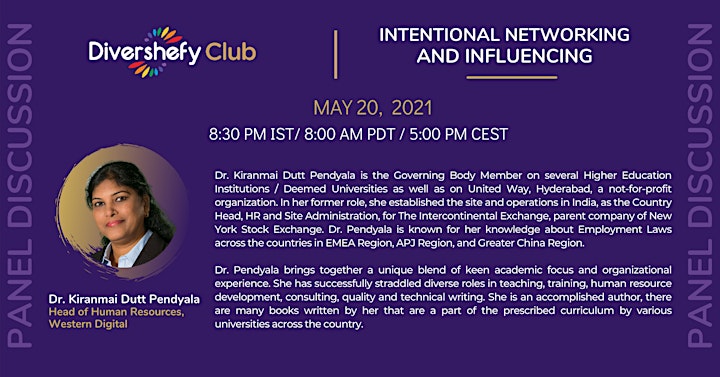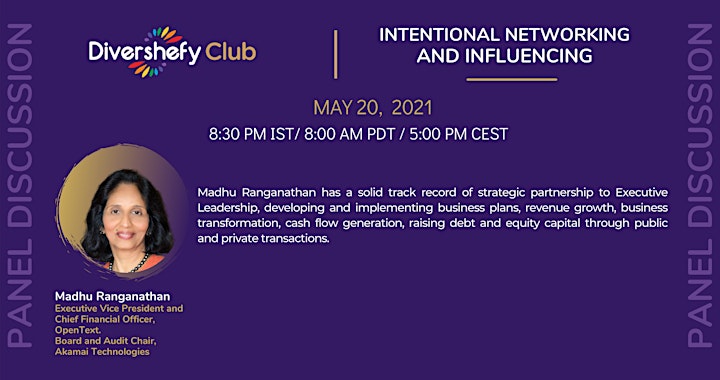 Organizer of Panel Discussion - Intentional Networking and Influencing.
Divershefy brings women into Boardrooms and C-Suite. Divershefy Club is a high level ecosystem of women who are in Boardrooms and C-Suites who support other women to get there, women aspiring for those positions and Investors, Corporate leaders and Board members who open doors.
We envision a world where women are equally represented in Top Leadership positions across the globe, where women change business culture to become more collaborative, sustainable and innovative and inclusive. Through our collective voice we make gender equality a reality in Top Leadership positions and bring diversity to Top Leadership teams globally by including women from different cultural backgrounds.

To achieve this we advocate for women leaders, create a supportive ecosystem, conduct Masterclasses, offer Mentoring, SME Groups, give women a speaking opportunities to build their public profiles and place women in Board and C-Level positions. Most importently aspiring women need to engage frequently with those people who can actually put them on a Board or in a C-Suite. We provide many such opportunities as part of Divershefy Club membership. To become a member sign up at www.divershefy.club.