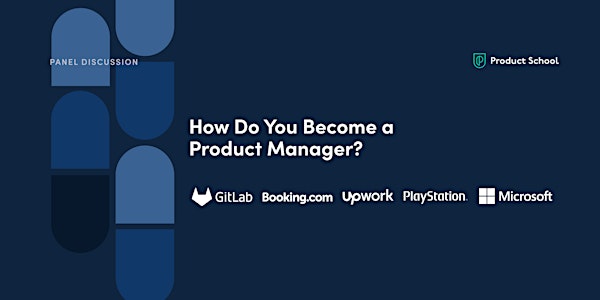 Panel Discussion: How Do You Become a Product Manager?
Product School hosts free daily Product Management events with top professionals who are there to help you level up your career!
About this event
DISCLAIMER: Register here to watch the stream or access the replay
When brilliant product minds come together, great things happen. We're excited to bring to you a special series of events with top-notch product professionals to share their experiences and thoughts on some of the most definitive and imperative topics in the tech world today.
Join us and get ready for a lively discussion that will open your mind about the world of Product Management. In this panel, we will be discussing "How Do You Become a Product Manager?" with our moderator: Jackie Porter: Director of Product at GitLab alongside
Sanchit Juneja: Product Director at Booking.com,
Nikhil Purwaha: Director of Product at Upwork,
Mischa Stephens: Sr PM at PlayStation and
Cobih Obih: Sr PM at Microsoft.
Come join us on Launch! Product School's exclusive community for Product People to learn, exchange ideas and build better together.

Jacqueline is the Director of Product at GitLab. With more than seven years of product development leadership experience, now one of her main responsibilities at her current company is to enhance the code building and packaging experience.

Sanchit is a Group Product Manager at Booking.com, working on Technical Platforms. He manages his team of PMs as they work on core order data platforms and other allied horizontal business services.

Nikhil is a product leader who has been building innovative products for over five years. He is currently Director of Product, Platform, and Shared Services at Upwork.

Mischa is a user experience champion, having built hardware and software products in industries spanning music, advertising, news media, events, and gaming.

Cobih is a Senior Product Manager at Microsoft working on empowering nearly two billion frontline workers around the globe.
The content of this event is for educational purposes only and does not include any specific facts of the presenter's current or previous company. The opinions expressed in this event are solely those of the presenter based on personal experiences and do not reflect those of the company the presenter works for.
Get the FREE Product Book here and check out our curated list of free Product Management resources here

Product School is the global leader in Product Management training with a community of over one million product professionals. Our certifications are the most industry-recognized credentials by employers hiring product managers. All of our instructors are senior-level Product Managers working at top Silicon Valley companies including Google, Facebook, Netflix, Airbnb, PayPal, Uber, and Amazon.
Disclaimer: by registering for this event I agree to receive email communications from Product School and all sponsor brands.