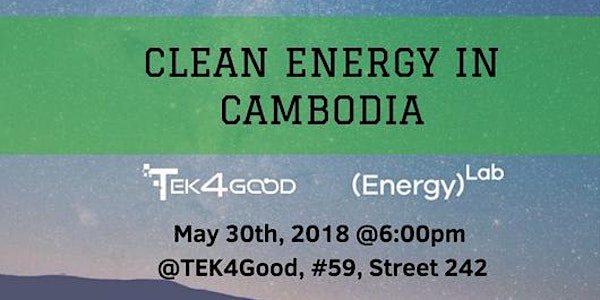 Panel Discussion: Clean Energy in Cambodia
Event Information
Location
TEK4Good
#59, street 242
Phnom Penh
Cambodia
Description
Cambodia has an opportunity to become a leader in clean, renewable electricity as renewable energy sources such as sun, wind, water and biomass energy are abound. Cambodia currently depends mainly on large scale hydro power and fossil fuels and its power development plan to 2030 continues that dependence. With rapid decreases in the cost of renewable energy, storage and advances in digital technologies, there is opportunity for innovation and investment in clean energy technologies.
This discussion will provide an overview of what is happening in the clean energy sector in Cambodia and the region and the potential market and challenges for businesses in this sector.
Speakers:
1. Ms. Thida Kheav, a CEO of a Cambodian solar energy company Solar Green Energy
2. Ms. Bridget McIntosh, Director at EnergyLab, an organisation facilitating entrepreneurship and investment in the Cambodian clean energy market.
Date and time
Location
TEK4Good
#59, street 242
Phnom Penh
Cambodia