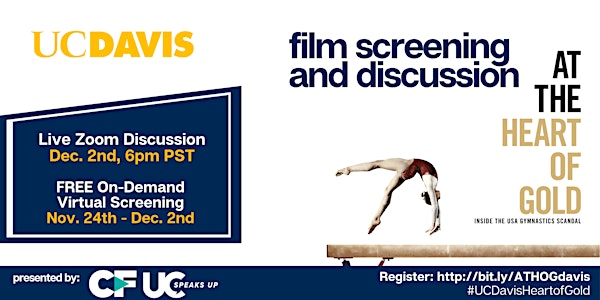 Panel Discussion - At the Heart of Gold: Inside the USA Gymnastics Scandal
Join us for a compelling discussion on prevention of sexual violence on college campuses and in sports.
About this event
To all students, staff, student-athletes, and faculty at UC Davis: you're invited!
This panel discussion for At the Heart of Gold: Inside the USA Gymnastics Scandal (ATHOG) is organized by the University of California Global Health Institute and their abuse-prevention initiative UC Speaks Up, in partnership with Courage First: an abuse-prevention initiative from Global Sports Development and Sidewinder Films.
Background:
This partnership was born out of research done by UC Speaks Up, examining sexual violence prevention among collegiate athletes. The research found that there are barriers to awareness and accessing resources for sexual violence support, and that additional programs for sexual violence prevention are necessary.
Courage First focuses on the prevention of abuse, particularly in sport. Created in honor of the Sister Survivors featured in ATHOG, Courage First offers universities, organizations, and communities the opportunity to screen the film and discuss the complexities around sexual assault on campus and in sport.
Panelists: Trinea Gonczar - WC Safe and Sister Survivor; Sarah Meredith - CARE Director at UC Davis; Dr. Steven Ungerleider - Film Producer and Sports Psychologist
Moderator: Daphne Young - Chief Communications Officer at Childhelp
Steps to Participate in this Screening and Discussion:
Step 1: Register via this Eventbrite Link
Step 2: Watch the film - At the Heart of Gold: Inside the USA Gymnastics Scandal. A link for free access to the film will be available beginning Tuesday, November 24th. If you own an HBO subscription, you can also view ATHOG through HBO.
Step 3: (Optional) Submit questions for the panelists via this Google Form.
Step 4: Attend the panel discussion: held December 2nd, 6-7:30pm.
Step 5: Be a part of our research! You will be sent a post-event survey. All respondents will be entered into a random drawing for 5 Courage First Swag Bags which include a boat tote, shopping bags, hoodies, t-shirts, lip balm, pens, notebooks, phone wallets, and Chipotle Gift Cards.
We look forward to your participation! Thank you for contributing to your community's mental and physical health by raising awareness on sexual violence, taking the steps to prevent it, and participating in necessary discussions. See you there!