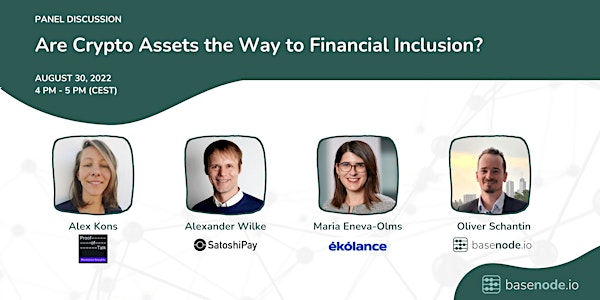 Panel Discussion: Are Crypto Assets the Way to Financial Inclusion?
In this basenode.io panel, we will elaborate on the role of crypto assets in the financial inclusion of people from emerging countries.
About this event
Economic globalization allows sourcing talents from all parts of the world, giving billions of people the opportunity to participate in a connected economy. Still, the transfer of money between different jurisdictions often poses a challenge to individuals and companies alike. Blockchain technology provides a network for the cheap and fast transfer of digital assets. And can thereby foster financial inclusion. What are the challenges to overcome before we see a broad-scale adoption of this disruptive technology?
We will discuss the pain points faced by freelancers around the world when it comes to receiving salaries via international money transfers.
We will elaborate on questions such as:
What challenges are the under- and unbanked facing?
How does blockchain technology foster financial inclusion?
How can salaries be paid and received in crypto assets today?
How does the current regulatory situation regarding crypto payments look like?
You will have the opportunity to ask questions directly to the panelists.
Our Panelists
Our panelists will be:
Location and Date
Location: Online.
Details for the live broadcast will be sent to you on the day of the event.
Date: August 30, 2022
Time: 4 PM - 5 PM (CEST)
Language: English
Agenda
16:00 - Welcome and introductory words (Oliver Schantin, basenode.io)
16:05 - Presentation basenode.io
16:10 - Introduction of the speakers (Alex Kons)
16:15 - Start of the panel discussion: Are Crypto Assets the Way to Financial Inclusion?
17:00 - End of online panel
Registration For The Event
Registration is required via Eventbrite; you will receive the URL for the live stream in advance. Registration closes half an hour before the start of the event.
Who should participate?
Employees and decision-makers from the financial sector interested in blockchain technology
Employers interested in hiring people from another country and paying salaries in crypto assets
Employees interested in receiving salaries in crypto assets
Consultants with a focus on solutions for financial inclusion and digitization
Journalists from the economics and technology department
Other groups of people with an interest in crypto assets, technology, and digitization
Founders and employees of startups with digital business models
Contact
basenode.io
Email: hello@basenode.io
Web: www.basenode.io
About basenode.io
At basenode.io, our mission is to eliminate the gap between traditional accounting and blockchain-based accounting. Basenode.io is the easy-to-use accounting solution for digital assets that offers seamless crypto invoicing and portfolio tracking. We provide a self-explanatory user interface with a clean and modern look, that naturally supports your workflow. We support the most popular networks like Bitcoin, Bitcoin Lightning, Ethereum, Binance Smart Chain, Polygon, Ronin Chain and more.
Privacy policy: By registering for this event, you agree to receive emails from basenode.io about news and events in the areas of blockchain, crypto accounting, portfolio tracking, freelancing and company updates.