About this Event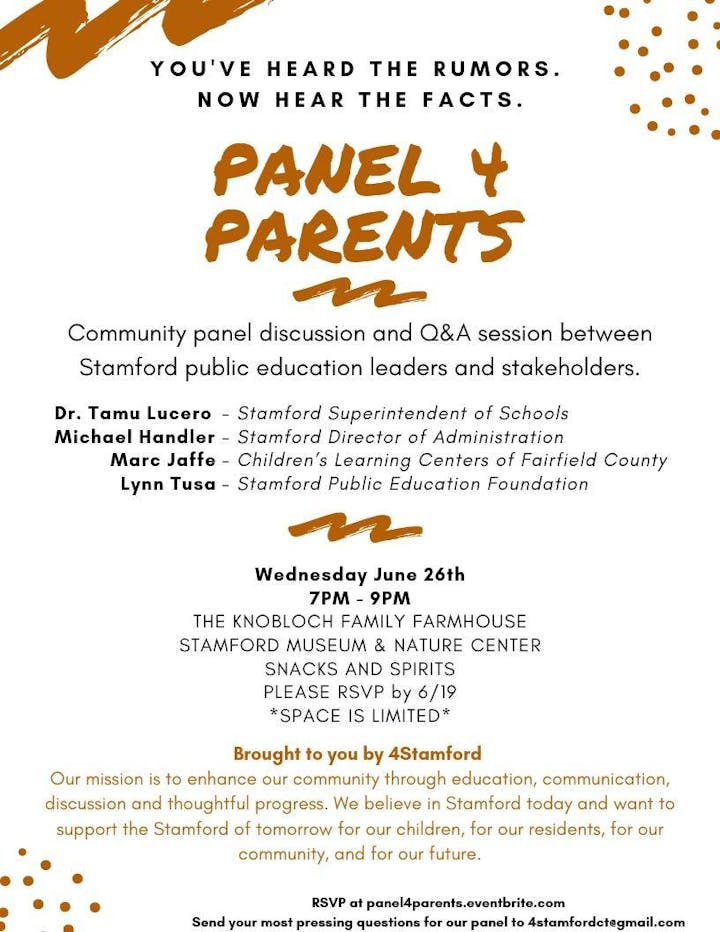 Can't make it? We will be holding a Facebook live stream of the event where you can ask questions! Like us on our Facebook page www.facebook.com/4Stamford
Send your most pressing questions for our panel to 4stamfordct@gmail.com
Please join us for an interactive conversation with leaders on the front lines of public education in Stamford. The quality and reputation of our public school system impacts all of us. Come learn first-hand how our leaders are tackling educational challenges and embracing our diverse city's strengths. We can't wait to hear from you.
Panelists include:
Dr. Tamu Lucero / City of Stamford Superintendent of Schools
Michael Handler / City of Stamford Director of Administration & leader of Mold Task Force
Lynn Tusa / Stamford Public Education Foundation Director of Communications & Development
Marc Jaffe / Children's Learning Centers of Fairfield County, CEO
JUNE 26TH | 7-9PM
Panel begins promptly at 7:45!
THE KNOBLOCH FAMILY FARMHOUSE
STAMFORD MUSEUM & NATURE CENTER
SNACKS & SPIRITS PROVIDED
*Space Limited* Please RSVP by 6/19
Brought to you by 4Stamford - Our mission is to enhance our community through education, communication, discussion and thoughtful progress. We believe in Stamford today and want to support the Stamford of tomorrow for our children, for our residents, for our community, and for our future.