Location
Henry Clay Theatre
604 South 3rd Street, 3rd Floor
Louisville, KY 40202
Welcome to the 2022-2023 Season Experience Powerful, Provocative Theatre at Pandora Productions
About this event
Welcome to the 2022-2023 Season
Experience Powerful, Provocative Theatre at Pandora Productions' live theatre performances with a Subscription Package that offers a savings of 20% off single ticket prices.
+ Save more by buying early!!
Subscribing with Pandora... 
gets you 5 amazing, cutting edge, regional premiere productions on our mainstage
is Easy and Convenient,
is the lowest pricing, and most economical way to see our productions,
makes exchanges cheerful and free
makes you one of our most valued patrons, you are our life-blood!
Subscribers enjoy special offers and discounts to other events such as:
Sing for the Roses,
New Year's Pajama Party,
and special co-productions and special projects(descriptions below)
Shakespeare's R & J, a collaboration with the Kentucky Shakespeare Festival &
Intersections - new plays examining the crossroads of the Queer community
Packages & Rates
1)     New & Renewing Regular Mainstage Subscribers:  $100.00.  
2)     Seniors (65+) and Student Mainstage Subscribers:  $90.00.
You may also call 502.216.5502 for questions regarding our Subscriber program or your purchase for more information.
ADD A DONATION! We'd be most appreciative if you would consider adding a donation to your subscription order. Our business has been impacted, and continues to live under the threat of impacts and further loss of business due to Covid-19 and related restrictions. We depend heavily on our ticket sales so that we don't have to ask for extra donations but with so much loss from the shut down we find we must ask. Your donation added to those of other subscribers will assist us in continuing our mission to transform lives, educate, enlighten and entertain. Our Subscribers are always the most generous of our patrons and we truly appreciate your consideration of increasing your regular donation or making a donation if you never have before. Thank you, as always, for your consideration! 
Please note that we are currently requiring masks for all patrons, staff, and volunteers.
Your 5 Show Mainstage Season Package includes: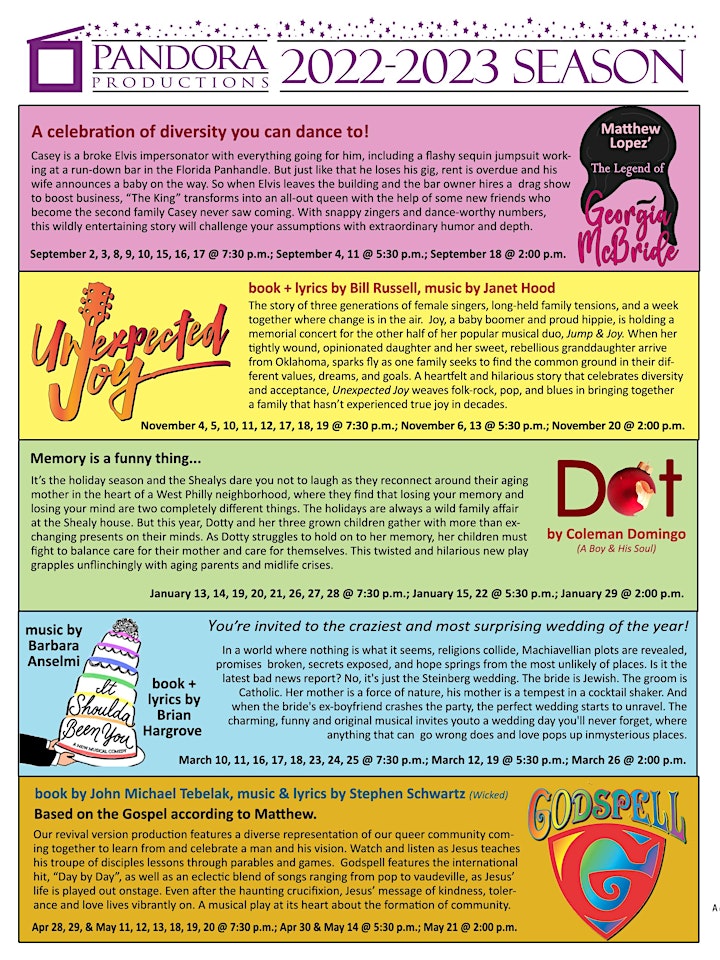 Subscribers can add the following at significant discount:
August 18 - 28, 2022
SHAKESPEARE'S R & J a co-production with Kentucky Shakespeare by Joe Calarco, directed by Matt Wallace
Four young prep school students decide to vary their very governed lives. After school, they all take turns reading Shakespeare's Romeo and Juliet aloud. The Bard's words and the story itself are thrilling to the boys, and they become swept away, enmeshed in the emotion so much so that they break school rules in order to continue their readings. The rigidity of their lives begins to parallel the lives of the characters in the play: roles in the family, society, and gender soon seem to make all the sense in the world, and then, suddenly, they seem to make no sense at all. Two eventually emerge playing Romeo and Juliet exclusively, bringing a whole new dimension to the proceedings. Perceptions and understanding are turned upside-down as the fun of play-acting turns serious, and the words and meanings begin to hit home and universal truths emerge.
October 2022
THE GIRL CRAZY QUEER'S GUIDE TO FAIRY TALE CLASSIFICATION by Allie Fireel, MFA Candidate UL , Directed by Gil Reyes
This play will be a fictionalized excavation of experiences at key points in the life of non-binary bi-polar queer. It will recount real-world events and use fairy tales and myths, traditional and original, to explore facets of identity. Can one be little Red Riding Hood and the Big Bad Wolf? Can Icarus ever just fly safely in the sky, or is he doomed to a death of unreasonable highs and deadly plunges? The fairy tales and myths will incorporate a mix of the theatrical disciplines outside of theatre, including some of the following: shadow puppetry, object theatre, projection, dance, magic, burlesque, slam poetry, and if the occasion arises, air guitar. I believe that for theatre to thrive in our multi-platform media landscape, it must be uniquely theatrical. The working title is a reference to the two insults used against me in childhood, as well as my lifelong love of magical stories.
Spring 2023
INTERSECTIONS 2.0 by Various Playwrights (National New Play Search)
Pandora Productions launches her 2nd National New Play Search for plays that explore the many intersections of the LGBTQ+ community and other marginalized communities. Specifically, we are interested in seeing plays that intersect with the Black, Latinx, Indigenous communities. BIPOC playwrights especially encouraged to submit. Plays selected will be given either a reading or a small production outside our home theatre.
Also save on entry to our annual Fundraising events if bought with your subscription:
NEW YEAR'S DAY - PAJAMA PARTY (January 1) & SING FOR THE ROSES (April 2023)