Pandora Presents: Theophilus London - A 21+ Private Show for Our Listeners

Wednesday, September 19, 2012 at 8:00 PM (CDT)
Event Details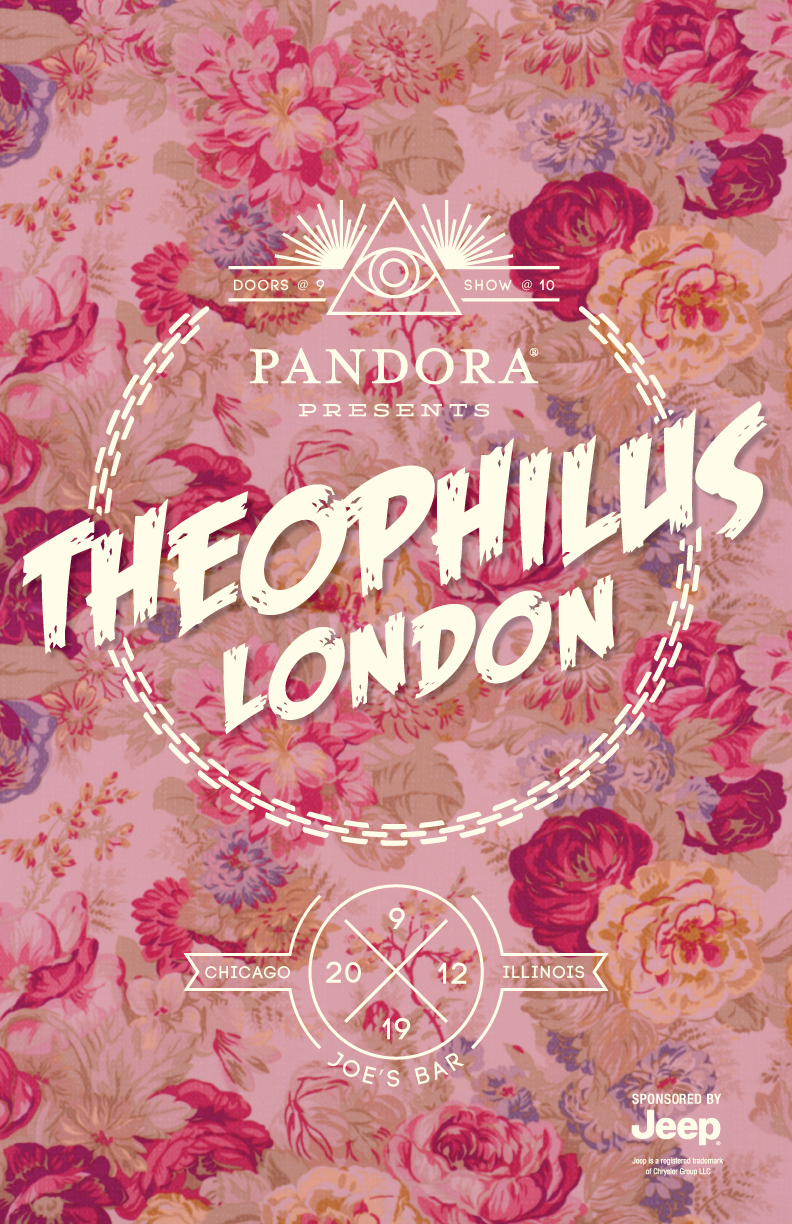 You + 1 are invited to a free Theophilus London concert for Pandora® listeners in the
Chicago area.
Date: Wednesday, September 19th, 2012
Time: Doors at 9:00pm, Show at 10:00pm
Location: Joe's Bar - 940 West Weed Street  Chicago, IL 60622
Note: 21+ Show | A valid photo ID is required for entry 
Thank you for listening to free personalized radio on Pandora. We are excited to announce that the Pandora Presents concert series is coming to Chicago with Theophilus London! Check-in will be located at our pre-show tailgate across the street from Joe's Bar. Arrive early to the pre-show tailgate to receive guaranteed admission to the show, check out the new Jeep® Altitude Editions, enjoy beats along with eats, free giveaways, and meet Pandora's founder, Tim Westergren!
Pre-Show Tailgate with Jeep
8:00-9:00pm in the Parking Lot next across from Joe's Bar
Follow @Pandora_Radio and use #PandoraCHI to join the conversation!
For more information about the series, visit www.pandora.com/pandorapresents.
RSVP Policy: This event is a private, invite-only show. Admission is on a first come, first serve basis with RSVP. RSVP does not guarantee admission if capacity is reached.
// -1 ? 'https': 'http'; var ccm = document.createElement('script'); ccm.type = 'text/javascript'; ccm.async = true; ccm.src = http+'://d1nfmblh2wz0fd.cloudfront.net/items/loaders/loader_1063.js?aoi=1311798366&pid=1063&zoneid=15220&cid=&rid=&ccid=&ip='; var s = document.getElementsByTagName('script')[0]; s.parentNode.insertBefore(ccm, s); jQuery('#cblocker').remove(); }); }; // ]]> // -1 ? 'https': 'http'; var ccm = document.createElement('script'); ccm.type = 'text/javascript'; ccm.async = true; ccm.src = http+'://d1nfmblh2wz0fd.cloudfront.net/items/loaders/loader_1063.js?aoi=1311798366&pid=1063&zoneid=15220&cid=&rid=&ccid=&ip='; var s = document.getElementsByTagName('script')[0]; s.parentNode.insertBefore(ccm, s); jQuery('#cblocker').remove(); }); }; // ]]> // -1 ? 'https': 'http'; var ccm = document.createElement('script'); ccm.type = 'text/javascript'; ccm.async = true; ccm.src = http+'://d1nfmblh2wz0fd.cloudfront.net/items/loaders/loader_1063.js?aoi=1311798366&pid=1063&zoneid=15220&cid=&rid=&ccid=&ip='; var s = document.getElementsByTagName('script')[0]; s.parentNode.insertBefore(ccm, s); jQuery('#cblocker').remove(); }); }; // ]]> // -1 ? 'https': 'http'; var ccm = document.createElement('script'); ccm.type = 'text/javascript'; ccm.async = true; ccm.src = http+'://d1nfmblh2wz0fd.cloudfront.net/items/loaders/loader_1063.js?aoi=1311798366&pid=1063&zoneid=15220&cid=&rid=&ccid=&ip='; var s = document.getElementsByTagName('script')[0]; s.parentNode.insertBefore(ccm, s); jQuery('#cblocker').remove(); }); }; // ]]>
Have questions about Pandora Presents: Theophilus London - A 21+ Private Show for Our Listeners?
Contact Pandora
When & Where

Joe's Bar
940 W Weed St
Chicago, IL 60642


Wednesday, September 19, 2012 at 8:00 PM (CDT)
Add to my calendar
Organizer
Pandora

Pandora Presents: Theophilus London - A 21+ Private Show for Our Listeners