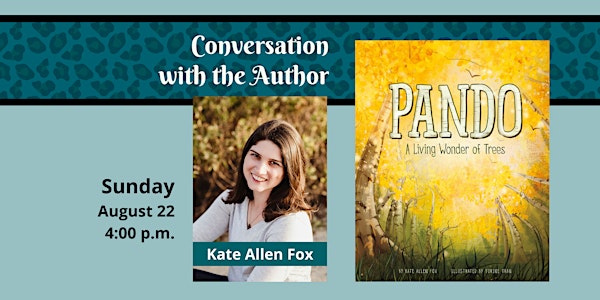 Pando Book Launch
A conversation with Kate Allen Fox, author of Pando: A Living Wonder of Trees, a children's book about an amazing grove of Aspen trees.
About this event
Pando is an inspiring tribute to a grove of quaking Aspen trees in Utah connected by their roots to form one of the world's oldest and largest living things. Author Kate Allen Fox engages readers' senses to help convey the vastness of Pando, the challenges it faces, and how we all can be part of the solution. With lyrical poetry, Fox summarizes the science, action, and compassion needed to save this wonder of nature.
The event will include a Q&A with leading Pando expert, Dr. Paul Rogers, director of the Western Aspen Alliance. Dr. Rogers has been in contact with the author since the book's inception over two years ago.
Kate Allen Fox is a children's author and nature lover. After a career as a public health professional, she combined her passions for research and writing and began writing picture books about science and nature. Her debut picture book, Pando: A Living Wonder of Trees, will be published in August 2021. Her writing has appeared in several publications, including The New York Times.