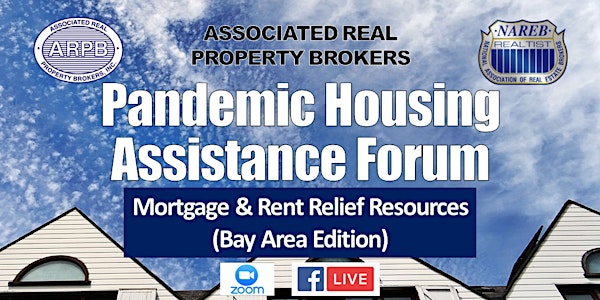 Pandemic Housing Assistance Forum: Mortgage & Rent Relief Resources
Pandemic Housing Assistance Forum: Mortgage & Rent Relief Resources (Bay Area Edition)
About this event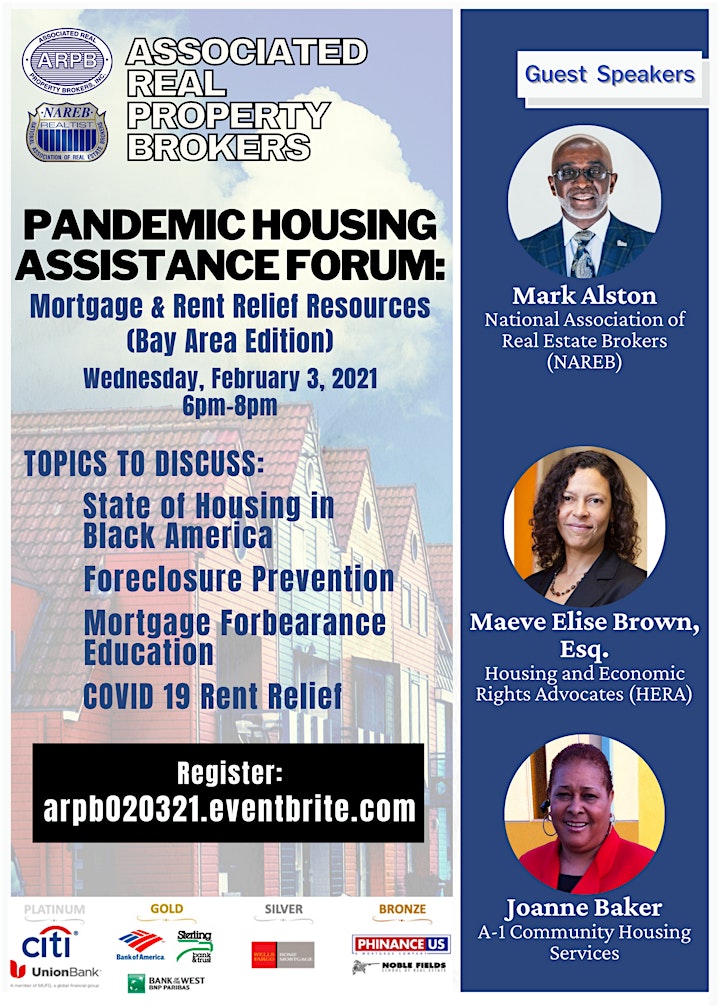 Join Associated Real Property Brokers Wednesday February 3rd, 2021 from 6-8pm.
Pandemic Housing Assistance Forum
Mortgage & Relief Resources (Bay Area Edition)-
Get all the critical information!!
Mark Alston, National Association of Real Estate Brokers (NAREB)-State of Housing in the Bay Area
Maeve Elise Brown, Esq. Housing and Economic Rights Advocates (HERA)-Homeowners's Relief & Financial Wellness
Joanne Baker A-1 Community Housing Services- Foreclosure Prevention & Forbearance
Angel Ibarra Centro Legal De La Raza -Emergency Rent Relief Services
Sponsored by Citi Bank, Union Bank. Bank of America, Bank of the West, Wells Fargo, Primary Residential Mortgage Inc, & A-1 Commnity Us
Associated Real Property Brokers (ARPB) is the Oakland Chapter of the National Association of Real Estate Brokers (NAREB) which was formed in 1947 out of a need to secure the right to equal housing opportunity, regardless of race, creed, or color. NAREB continues to be the vanguard by employing new strategies, expanding our reach along with educating black consumers and policy makers. Our 2 Million New Black Homeowners (2Mn5) program is the platform NAREB developed to reach our audience. NAREB has 90 plus chapters nationwide. We're proud of our past, relentless in our struggle, and 100% dedicated to the REALTIST Creed Democracy in Housing.
Organizer of Pandemic Housing Assistance Forum: Mortgage & Rent Relief Resources