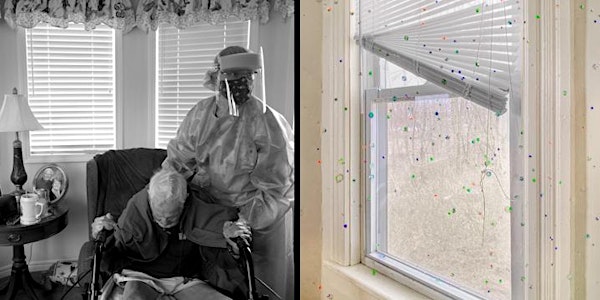 Pandemic Diaries, with Lynn Johnson & John Stanmeyer
A Conversation with National Geographic photographers Lynn Johnson and John Stanmeyer on their documentation of the Coronavirus pandemic.
Refund Policy
Contact the organizer to request a refund.
Eventbrite's fee is nonrefundable.
About this event
The virtual lecture will be broadcasted online via ZOOM, please read details at the bottom of the page.
Part of the proceeds of the lecture will be donate to Ecumenical Hunger Program of East Palo Alto, CA.
Join us for a conversation with National Geograpic photographers Lynn Johnson and John Stanmeyer as they present their two parallel experiences of the current crisis: one on the frontline, in rural America, the other in the isolation of home.
Lynn Johnson has been documenting the life inside a small hospital on Whidbey Island, WA. While we are witnessing the ability of the coronavirus to destroy individual lives and the fabric of our global communities Covid-19 is also killing the rural health centers and hospitals that serve millions of people across the country. It is projected that a quarter of rural hospitals will be forced to close due to the extreme financial and social pressures created by the Covid-19 crisis.This is a project about the future—subtle and profound ways that the coronavirus is threatening life in rural America. Welcome to Whidbey Island.
John Stanmeyer has been sheltering in place in his home in Great Barrington, MA and has been documenting his life through the project '24 Windows'. With most of humanity sequestered in their homes in self-quarantine or mandatory quarantine, our outer world becomes viewed from the inner being of our existence through windows. Mystical portals to a world we no longer can safely enter. How is this affecting us? What will be the long-term psychological and physical impact? 24 Windows represents a view of our world through the twenty-three windows of my home, a 120-year-old house left in disrepair by its previous inhabitants. As I began sharing this project on Instagram an outpouring from thousands of people I've never met who found comfort in these visual and written tomes has been extraordinary. Moments of beauty and kindness, within ourselves as a means to give balance during the most critical moments of our existence - within darkness, there still is light. 24 Windows is a narrative of photographs, videos and words that lifts and brings hope. A story that connects and belongs to all of us.
LYNN JOHNSON is regular contributor to National Geographic, known for finding beauty and meaning in difficult subjects. She collaborates with the people she portrays to honor their visions as well as her own, and she is not afraid to ask the tough questions. Her work has been honored by World Press Photo, the Open Society Institute and the RFK Center for Justice and Human Rights, among others. Johnson was one of 11 female photographer included in the 2014 National Geographic project 'Women of Vision', that highlighted how "these women of vision have taken millions with them on assignment through the pages of National Geographic–and in the process have set a new standard for excellence that will continue to inspire for decades to come".
JOHN STANMEYER is an award-winning photojournalist, Emmy nominated filmmaker and educator, dedicated to social, humanitarian and political issues that define our times. For more than 15 years, John has worked nearly exclusively with National Geographic magazine, producing over 19 stories, resulting in more than 14 covers. Between 1998 and 2008, John was a contract photographer for Time magazine. His years with Time resulted in 18 covers. In 2001, Stanmeyer co-founded the prestigious VII Photo agency. Stanmeyer is an Emeritus member of VII and also is represented by Nat Geo Image Collection agency. He is the recipient of numerous honors, including the prestigious Robert Capa award, POYi Magazine Photographer of the Year and the World Press Photo of the Year in 2014. John lives in the southern Berkshires of western Massachusetts.
Lecture will be broadcasted via ZOOM.
Two days before the lecture you will receive an e-mail with details on how to access the lecture via ZOOM.
Part of the proceeds of the lecture will be donated to ECUMENICAL HUNGER PROGRAM of East Palo Alto, CA.