Tallulah Talons invites you to an intimate burlesque show within Club Cumming at your very own socially distanced table
About this Event
This show features: Amber Ray, Foxworth Vorn, Cecily Starr, and Tallulah Talons. Lineups subject to change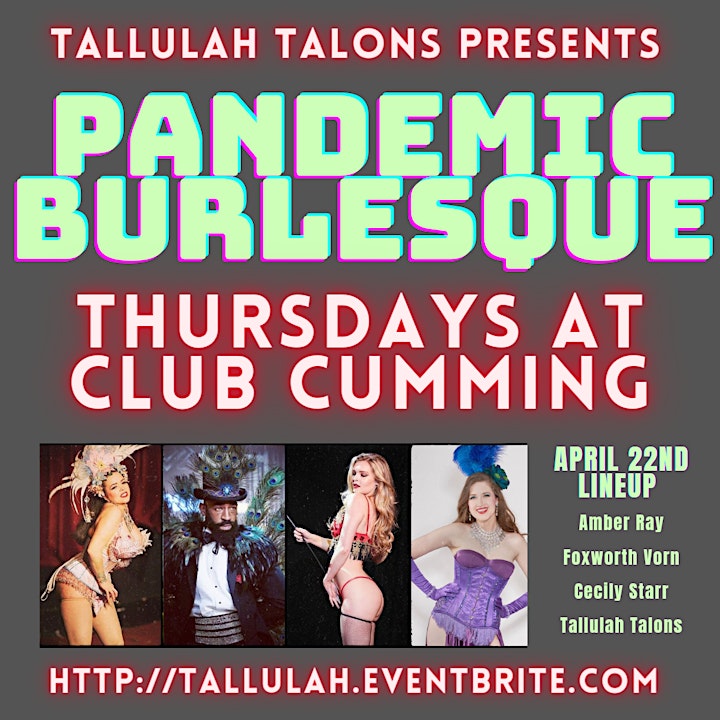 This week's lineup
You're invited to a socially distanced burlesque show at Club Cumming! Tallulah Talons, New York nightlife diva and the 6'1 giantess of burlesque, will host an extraordinary evening featuring her favorite performers.
Enjoy drinks and laughs with your friends at your very own socially distanced table while some of New York's top burlesque talent give you an intimate show you'll not soon forget.
Please note that indoor seating will be extremely limited to ensure proper social distancing for all. Masks will also be required except when seated at your designated table.
Reservations must be made for a minimum of 2 and all tickets purchased together will be seated together. If you are coming alone, you must buy 2 tickets since you will be reserving a table normally used for 2. There is a 2 drink minimum for table seating
Lineups subject to change. 
Your name will be matched to the reservation list at the door. Advance reservations are required to enter Club Cumming and attend this show. 
Doors open at 7 PM  
Main show runs from 8 - 9:15 PM
Virtual livestream tickets also available! 
Watch the live show simulcast from the comfort of your home via Zoom.